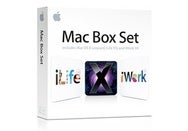 One of the products announced during the Macworld '09 keynote that might have slipped outside the spotlight was the Mac Box Set. Priced at just $169, the Mac Box Set will ship at the end of January, and is a combo pack of three software products—Mac OS X v10.5 Leopard, iLife '09, and iWork '09—which individually retail for a total of almost $300.
Needless to say, that's a great deal and it ought to be pretty tempting for anyone who has yet to upgrade to Leopard. This clever move addresses quite a few complaints people have had with Mac OS X pricing over the years and might even be a pre-meditated solution for a problem that could arise with the launch of Snow Leopard.
First and foremost, of course, is the fact that iLife '09 is not compatible with any version of Mac OS X prior to Leopard. Obviously, the box set is primarily targeted as a means to soften the blow for those users who have been adamantly sticking to Tiger—or even earlier versions—and entice them to upgrade to the latest and greatest of everything—Mac OS X, iLife, and iWork.
Secondly, it may be looked at as Apple's answer to the fact that Vista includes photo managing, movie editing, and DVD-authoring applications in its default installation (no matter how lackluster they may be). Until now, you'd get iLife for free with all new Macs, but when new versions of Mac OS X, iLife, or iWork came out, you'd have to upgrade to them individually, paying full price for each. Now, you can get Mac OS X, iLife, and iWork all in one package for a price much less than even Vista's cheapest version.
Furthermore, the release of the Mac Box Set can potentially increase the adoption rate of Apple's iWork suite, furthering its efforts to make inroads into the enterprise segment. Now that you can buy Leopard and iLife '09 for less than the combined cost of both pieces of software and basically get iWork '09 thrown in for free, I assume a lot of people will be taking home a copy of iWork—whether or not they actually set out to buy.
Now, you probably know all of that, but bear with me as I venture into uncharted territory. When Apple first announced during WWDC in June 2008 that the next version of Mac OS X, Snow Leopard, wouldn't have any significant new features and would focus more on the internals of the operating system to make it faster and more stable, there was a flurry of speculation that Apple might introduce it for a lower price, or even for free.
In this blogger's humble opinion, and I'm just speculating here, this may be Apple's way of steering clear of a backlash when they do introduce Snow Leopard at the full price of $129. Assuming that the Mac Box Set will now always be upgraded to the latest versions of Mac OS X, iLife, and iWork, I think most people would be very willing to pay $169 for upgrading all three of these products at the same time, even if they are reluctant to pay full price for any one of these products.
In any case, at just $169, the Mac Box Set is a crazy good deal for what it offers and I'm glad that Apple is taking some steps to lower the pricing on their products, specially in the current economic climate. It's available for pre-order right now on the Apple Online Store and has an estimated shipping date of late January. There's also a family pack available for $229, if you have more than one Mac in your house (thanks to reader 'skipaq' for the tip).
Update: There's also a family pack available for $229, if you have more than one Mac in your house (thanks to reader 'skipaq' for the tip).