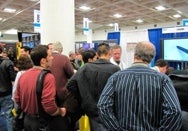 I wouldn't go so far as to call the North Hall at Macworld Expo the Isle of Misfit Toys but it's close. Traditionally Macworld Expo's second show floor (when the show has a second show floor) tends to have some interesting booths intermingled with booths that are…well, not as interesting (I'm being nice here, folks).
As you might expect, the North Hall is a little less crowded and there doesn't tend to be the same large clumps of people trying to squeeze into booths—the Apple booth, by comparison, often looks like some sort of very geeky mass wrestling match.
There are exceptions that prove the rule though, and LiveScribe is one such exception. As I was walking around the North Hall looking for neat things to write about (I do it for you, dear readers, all for you!) I was stopped in my tracks by a press of humanity all eagerly waiting to see a Pulse Smartpen in action.
The Pulse Smartpen, in case you're unfamiliar, lets you sync your written notes to your Mac thanks to their almost finalized Mac client. The pen also records audio as you write, allowing you to tap on some text that you wrote and play back the audio that was recorded while you wrote it (you do have to use special mircodot paper to enable all this magic though). That's just the tip of the iceberg with the Pulse Smartpen, which is why I am not shocked that so many people wanted to see a demo in person—plus it won a Macworld Expo best of Show 2009 award so you know it's got to be good.
The LiveScribe booth really livens up the North Hall, and I recommend you check it out if you're at Expo.