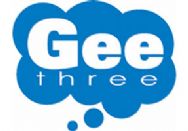 At Macworld Expo this week, I talked to Bruce Gee of GeeThree fame, as he demonstrated his company's latest batch of SlickFX plugins for Final Cut.
Fusion Factory offers a ton of soft and organic dissolves, while Photo Motion helps bring still image effects (like the famous Ken Burns effect) into Final Cut. Both cost $75, though GeeThree is offering a $50 Macworld show special to Expo attendees.
Gee is also showing off an iPhone game, Guess the Google, that shows you a group of photos and asks you to guess the link between them. If you're on the show floor Friday, stop by booth No. 446 in the South Hall and help him beta test the new game.