Feral Interactive has announced plans to publish a Macintosh version of Sega's Rome: Total War Gold Edition in March. It will cost $29.95.
Rome: Total War is a strategy game that comprises both turn-based and real-time elements. It's set during the years of the Roman Republic and the Roman Empire, spanning three centuries. You take control of one of three great Roman families as you attempt to increase your family's power in Rome using your skills in diplomacy, economics and war.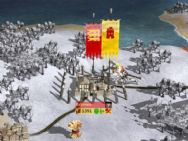 The game features a 3D graphics engine that can render more than 10,000 virtual soldiers on the battlefield at once—the graphics have been impressive enough to be used by the producers of "Decisive Battles" by the History Channel to recreate famous battles of history.
Feral is adding Rome: Total War Gold Edition to its recently-launched "Feral Legends" line—a series of older games that are just now seeing their debut on the Mac, value-priced below the typical cost of a new Mac game release. Feral debuted the Legends line in 2008 with the release of Sid Meier's Pirates.
System requirements call for a 1.8GHz Intel-based Mac or faster, 512MB RAM, 128MB graphics card, DVD drive, 6GB of hard disk space and Mac OS X 10.4.8 or later. Intel GMA graphics processors are also supported.
Updated 1/13/09 2:48PM ET: Info on Intel GMA graphics corrected.