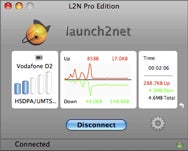 Nova media has updated its launch2net mobile Internet connection wizard software—which allows mobile Internet connections worldwide and supports most phones, USB modems, and data cards—to version 1.8.8. The software includes drivers and network access information to simplify connecting to mobile Internet devices. The configuration assistant is designed to automatically detect your mobile device and configures your mobile Internet connection without your needing to enter user names, passwords, or modem scripts.
The latest version adds support for USB modems from ZTE. According to the company's press release, ZTE modem are widespread throughout the world, but often lack Mac-compatible software or tech support. Launch2net 1.8.8 now supports ZTE's MF628 and MF622 USB modems, as well as Vodafone's K3565-Z and K3520-Z USB modems.
Launch2net costs $75—plus value-added tax (VAT) for those in the U.S. and Canada, according to the company—and requires OS X 10.4.11 or later. The update is free to registered users.