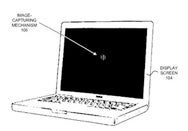 I really don't think there's much point in keeping an eye out for Apple's patent filings, because I've never really seen any of them being utilized in actual shipping products (except when you find out about them after they've been introduced in a product), but it's our duty to bring them to your notice when we come across Apple patent filings that pique our interest.
The latest one to do so is a patent filed by Apple in July 2007 that describes a way to integrate an iSight camera actually behind a display, instead of above it, so that you're looking right into the camera when you're looking at the display. Apparently, the display could be transparent in some way and allow the camera to see through, even though the camera itself would be invisible to the user. Apple also suggests that OLED displays would be a good option to use, and those are still a little ways from being cost-effective in the consumer market.
Frankly speaking, I have no idea how that would work, which is why it's probably good that I'm not an engineer of any sort. But it does sound like a great idea and its demo would be quite a sight (pun unintended) if Apple actually pulls something like that off. But, like I said, I don't remember ever hearing about some Apple patent and then seeing it come to fruition, so I don't have high hopes about this either.
[Via AppleInsider]