A year ago, I wrote about the Jing Project, an innovative and easy-to-use screenshot- and screen movie-sharing program. Over the last year, Jing developer TechSmith has been working with all the Jing Project users, implementing new features and generally cleaning up the application.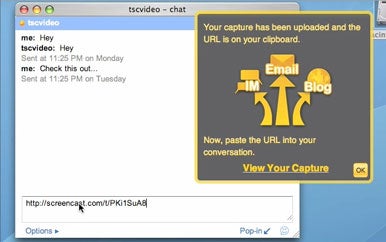 At this year's Expo, TechSmith announced the end of the free Jing Project—but not the end of free screenshot and video sharing.
The Jing Project has been replaced by simply Jing, which continues to offer completely free (and easy) sharing of screenshots and videos. The company has also added a new feature that lets you create customized sharing buttons, so you can add an FTP button, for instance, to upload your capture to your own server. The interface is also much cleaner than it was when I saw it a year ago, making the program even easier to use—though the main interface for accessing the preferences is still a large, bright yellow sun.
In addition to Jing, TechSmith also now offers Jing Pro, which costs $15 per year. For your $15 per year, you get H.264 video (instead of just SWF), direct upload to YouTube, and the removal of the Jing branding at the end of your videos.
While Jing's editing features are limited—some basic call-out shapes for still images, and nothing for video—it's a fast, free, and very easy way to share screen captures and screen videos with others.