As someone who's relied heavily on Keynote since its 2003 debut, I scrutinize each release for fresh ways to jazz up my presentations and get my work done faster. After exploring the newly released Keynote '09 for the past few days, I've discovered several exciting new features as well as a few old shortcomings.
Here's a quick rundown of what's new and what's still missing.
Improved interface
Although Keynote '09's main window and toolbars are almost untouched from the previous version, Apple has added several welcome enhancements behind the scenes. For example, the redesigned Theme Chooser sports a dropdown menu that lists recently opened files, and it adds a slider that lets you magnify the theme thumbnails. As you mouse back-and-forth over them, Keynote displays some of the theme's masters along with a sample table, pie chart, and bar graph. That helps you decide if the theme is right for your presentation before you open it.
Relative spacing and sizing guides, new options in Keynote's Rulers Preferences, make it easier to distribute objects evenly or give two or more objects the same height or width. If you option-click on the red triangle at the bottom right of any slide element with a motion path, the object and the ghosted versions of its alternate positions stay visible when you click anywhere else on the slide. It's much simpler to choreograph multiple objects that way.
Keynote's workflow improvements extend to Presenter Display. A small toolbar that appears when you move the cursor to the top of the screen lets you see miniatures of all your slides and jump to any one, or customize the Presenter Display on-the-fly. The digital timers at the bottom of the screen are easier to read, too.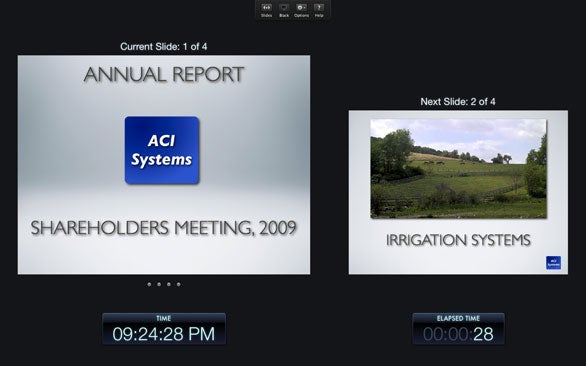 Animated transitions
I've come to expect extra animation options with every update, and Keynote '09 is no exception, sporting several novel effects and nine new transitions. Magic Move, the most innovative of the bunch, is my favorite so far.
Unlike most transitions, Magic Move affects shapes, text, or images on the slide. Say, for example, that you want to start a presentation with your company's logo centered and then have it move to the bottom right for the rest of the slides. To do that, you create a frame with the logo centered, duplicate the slide, drag the logo to the corner of the duplicate, and finally apply the Magic Move transition to the first slide. When you play the show, Keynote generates a smooth motion path between the logo's two positions.
Magic Move also works if you change the size of an object—Keynote makes it grow or get smaller automatically. And, although it's not documented in the User Guide, I found that Magic Move applies to other object attributes such as fill, stroke, shadow, reflection, and opacity. Another, similar transition transforms one text string into another with an anagram, shimmering, sparkling, or swinging effect.
Clearer data
Anyone who presents scientific and other information will appreciate Keynote's new charting and table options. For the first time, Keynote lets you display error bars on graphs as a fixed value, percentage, standard error, or standard deviation. You can display trendlines for some charts, and you can show the equations and values that were used to calculate them.
Keynote's table features have improved, as well. In addition to the seven existing cell formats, Keynote '09 supports Duration, which formats numbers as units of time, and Numeral System, which shows cell values in any base from 2 to 36. There's even a feature that lets you define custom cell display formats.
Missing and dropped
Regrettably, Apple hasn't remedied one of my long-standing complaints—Keynote doesn't let you play audio files that only span a selection of slides. Plus, I was disappointed to find out that Keynote doesn't mark hyperlinked text that's been clicked, so it's very difficult to create Jeopardy-style games.
I wasn't shocked to learn that Apple has dropped support for Flash export, which never worked well anyway, but I was a bit surprised not to find Web View, an old feature that let you display Web pages on slides. And my wish-list still includes a robust, timeline-based approach to managing animations.
Overall, though, I'm pleased by what I've seen so far from iWork '09's updated presentation application. I'll report my final assessment of Keynote '09 in my upcoming review.
[Franklin N. Tessler in a university professor in Birmingham, Alabama.]