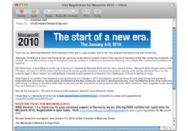 The body of Macworld Expo 2009 may still be warm—the week-long trade show just ended on Friday afternoon—but IDG World Expo is wasting no time moving on with its life.
A mere hour after the show floor closed on the last day of the event, I received an e-mail offering free Registration for Macworld 2010. The message also includes a link to an Expo survey (sample questions: "For Macworld 2010, who would you like to see deliver the Keynotes?" and "Which city would you like to see Macworld?") and an e-mail address for sending feedback and suggestions for The Year We Make Contact.
Macworld Expo 2010 (put on by IDG World Expo, which is owned by the same company that owns Macworld) will be held at in San Francisco between January 4 and 8, 2010. Apple announced in December that it will no longer atttend the trade show.