Let's make one thing clear up front: iWork.com (in its current pre-release form) is not a collaborative online productivity tool like Google Docs or Zoho. You can use iWork.com to share documents, spreadsheets, and presentations from iWork '09. But the people with whom you share those documents can only view, download, and comment on them; they can't actually edit them.
All that said, iWork.com is a convenient way to share iWork documents, particularly with people who don't run iWork themselves.
How it works
Each of the three iWork '09 apps— Pages '09, Numbers '09, and Keynote '09—now have an iWork.com button on their toolbars (as well as a Share via iWork.com menu item). Press on that button from any active document, and you'll be asked to enter the e-mail addresses of the people you want to share it with. (Addresses are autofilled from Mail's contacts.) You can add an optional message, and specify whether the people you're sharing with can comment on the document, download it, or both. If you click on the Advanced button, you can specify which file formats iWork will upload: In Numbers, for example, you can specify Numbers '09, Numbers '08, PDF, and Excel.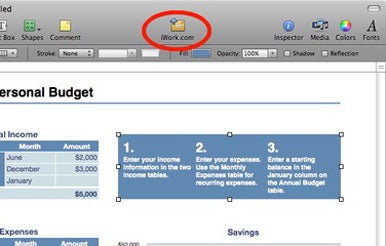 When you then click on the Share button, you'll get a status message tracking the upload. When it's done, you can either click on OK to get back to editing your document, or View Document Now, to open the document on iWork.com in your default browser. The recipients on your "To" list will get an e-mail informing them of the share. When they follow the link from that message, they'll also see your document in their browser.
When viewing an online document, you see an Add Comment at the top of the screen; you or your sharers can highlight some text, click that button, and then add a comment about the selected text. Sharers can also leave notes about the document in general, which everyone else can see. A navigator sidebar offers thumbnails of each page, and a Download drop-down menu lets you choose which file format you want to download to your machine.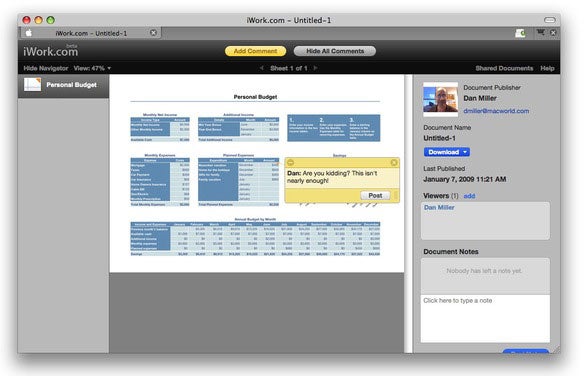 How it compares
There are no Edit buttons or any other tools on iWork.com that would let sharers actually change a Pages text, Numbers spreadsheet, or Keynote presentation: It really is just a tool for viewing and sharing. And you can't sync viewers' comments or notes back to the original iWork document; they're stored in the online version only. If you want to see them locally, you'd have to download a copy of the commented document from iWork.com—not exactly an elegant solution.
That said, if you use the iWork suite, iWork.com could be a convenient way to share documents with people who don't. That's why it's handy that Apple made it simple to make shared documents downloadable in a variety of file formats.
And iWork.com could also be useful if you need to share graphically rich documents online. Most online apps let you insert pictures, tables, and other graphical elements into your documents, but their page-layout tools are much more limited than those in iWork (or Microsoft Office). For the most part, iWork.com lets online viewers see your iWork documents with graphics, formatting, and layout intact. I say "for most part" because you can't, for example, view movies or animations inserted into Keynote presentations on iWork.com.
The bottom line
All in all, if you're an iWork user, and want to share your work with those who aren't, iWork.com is a handy tool. But if you're expecting something like Google Docs, you'll be disappointed.
[Dan Miller is Macworld's executive editor.]