Ever since USA Today first rolled off the presses nearly 30 years ago, critics have derided the Gannett-owned paper as shallow and a superficial publication whose coverage lacked depth, and whose graphics-laden pages merely pandered to a TV-sodden audience conditioned to have the shortest of short-attention spans.
Maybe so, but the format fits the iPhone and iPod touch perfectly.
Read more…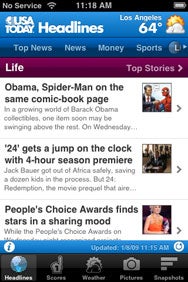 I don't mean that as a knock on USA Today or the iPhone. News in graphically appealing, easy-to-read, easy-to-navigate and digestible bites, with just the facts, then USA Today's content meshes well with a handheld platform like the iPhone.
The New York Times shows the other form works, too. Anything that appears in the print or online edition of the Times, you can read on your handheld, even without a Wi-Fi or 3G connection. But what's the knock on the NYTimes app? It's slow. Very slow. Downloading all of that meaty content onto your little iPhone takes time. And the ads on the Times app tend to be obtrusive.
USA Today for the iPhone is fast. Very fast. The app is graphically pleasing, and makes reading the day's top stories easy and pleasurable. You can also view the day's top pictures in landscape format. The weather feature—USA Today would be nothing without its weather page—is excellent. Although the app's default weather setting is New York City, you can adjust the preferences to make it your current location. And the app has a frivolous but fun snapshot poll feature that displays instant results nationally, as well as from your city and state.
But USA Today makes other trade-offs. Yes, you get that day's news from USA Today. It doesn't archive stories very well and—in some places—doesn't update very well. The app lets you choose a default section from among several subject areas to appear under a main header—"politics" and "national," for example, under "News"; "people," "television," and "books," under "Life." I noticed that some of the stories under several featured sections were two or three days old. But the headline news—the paper's bread-and-butter—is always up to date.
My other criticisms of the USA Today app amount to minor quibble or two. Turns out, the app doesn't include all of the daily paper's content. The former editorial writer in me laments the absence of USA Today's short house editorials and rebuttal commentary. The navigation bar at the top of the screen, which takes you to Life, Tech and Travel sections, is sticky and often non-responsive. And, alas, there is no way to adjust the display type size.
As media outlets go, USA Today will never really compete with a New York Times. But as far as apps are concerned, USA Today is a winner.
USA Today is compatible with any iPhone or iPod touch running the iPhone 2.1 software update.
[Ben Boychuk is a freelance writer and columnist in Rialto, Calif.]
When you purchase through links in our articles, we may earn a small commission. This doesn't affect our editorial independence.