By Sunday, things here in Las Vegas things were winding down for the Consumer Electronics Show. That made it a good quiet-ish time to process the massive amount of tech-overload I've been inundated by this week.
Some of the biggest news this CES came from HDTV manufacturers and related companies. With that in mind here are eleven HDTV trends I spotted on the show floor that make it clear to me 2009 is going to be great year for HDTV technology. If the economy improves, it could be a good year for HDTV sales as well.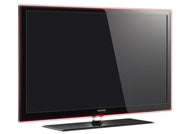 Design. We're seeing an increasing emphasis on design. That's evident in the models from LG and Samsung, for example. Samsung's Touch of Color accents, in particular, are eye-catching and meld well with the HDTV's sleek designs.
Connectivity. Manufacturers have dabbled with this idea before, but 2009 was the breakout year of the Internet-connected TV. Vizio, Panasonic, Sony, Samsung, and LG all touted Internet TVs, with many of those using the Yahoo Connected TV widgets system. But connectivity isn't just about widgets and watching your 401K drop by half; nor is it just about connecting your TV to your home network to stream content to your PC. It's about accessing Internet-based services, too, such as Netflix for video streaming, or Pandora for audio streaming.
Price. Westinghouse says its 55-inch television will come in at $1500 in the second quarter. That's with 120Hz technology built-in. Clearly, prices will continue to push downward—a good thing given the current economy.
55 Is the New 52. Look for more 55-inch televisions. I hear 55-inch panels will be hitting more of a sweet spot than 52-inch, in terms of production efficiencies, so we will be seeing more of these large models in the future.
720p Fades Away. I don't expect 720p to disappear completely. This not-quite-Full-HD high-def resolution will always hit a super-low, entry-level price for the manufacturers aiming to provide ultra-affordable 42-inch displays. But many manufacturers are dropping 720p entirely, or limiting them to specific models in the below 30-inch category. Sony, for example, has just two 720p models left in its new arsenal: The 32-inch Bravia KDL-32L5000, and the 26-inch KDL-26L5000. Of its new models, Sharp only has 720p in 19-inch and 26-inch televisions.
1080p Becomes King at 32-Inches and Up. No, it's not ubiquitous yet, but this is the logical converse of 720p fading away: 1080p at 32-inches and up. But it's an encouraging trend to see— given the growth of Blu-ray disc. It's my opinion more people will be using even small-size HDTV's to view 1080p content. After all, why should you have to downscale picture quality just because you have limited space in your living room/den/bedroom?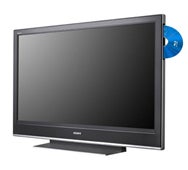 Built-in Ports, and Blu-ray, Too. Once an unusual find, USB ports are now near-ubiquitous on HDTVs. Model after model here at CES sports this connector, allowing you to easily jack-in a USB flash drive and access images and other multimedia content. SD Card slots are also popping up more frequently than before too (previously, just Panasonic showed SD Card). And Sharp and Haier showed off televisions with integrated Blu-ray players, too. Sharp's models are actually due later this month. The 32-inch LC32BD60U will cost $1099, and a 42-inch LC42BD80U Sharp model with 120Hz refresh rate will sell for $1899.
E is for Energy. The big word in televisions is energy efficiency. Plasma makers talked about continuing to find ways to reduce energy consumption, and several manufacturers talked up Energy Star 3.0 certification.
Sony's Bravia VE5-series goes the furthest with its environmentally friendly features. Due out in the summer, this line—the Bravia KDL-52VE5, Bravia KDL-46VE5, and Bravia KDL-40VE5—features high-efficiency HCFL backlighting, which uses reduced-size cathode tubes in order to improve power efficiency by 40 percent compared with other Sony LCDs. These models also feature a zero-watt standby power switch, a light sensor with dynamic backlight control to adjust the screen's brightness down for use in dim environments, and a presence sensor that turns off the TV if it doesn't detect motion for a specified period of time. These models all feature Motionflow 120Hz technology, too. ( Here is a good explainer video on what Motionflow technology is.)
LED In Holding Pattern—Sort Of. Yes, LED backlit displays can consume less energy. Yes, the images can look brilliant, with better dynamic contrast. But not all manufacturers are pushing LED. Samsung is with its new series dedicated strictly to LED displays. But Sharp continues to limit LED technology to its limited edition line. And Sony didn't make any LED TV announcements at the show. This technology still carries a price premium over CCFL-based LCDs—and meanwhile, manufacturers are forging ahead to improve traditional CCFL technology to eke better performance from it (see earlier mention of Sony's HCFL backlighting).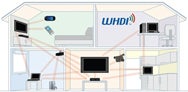 Wireless Watch. Paul Gagnon, who tracks HDTVs for market research firm DisplaySearch, adds that an upcoming by-product of increased connectivity is the need to improve wireless data transmissions. "Connectivity will be the critical first step (in bringing content to HDTVs), followed by what content is to be displayed on the set," Gagnon said. Devices, such as DVRs, Blu-ray players, and media servers, will need to connect to HDTVs faster and in more convenient robust way.
Numerous standards and companies are working on this, like the Wireless HD consortium ( WHDI).This standard has the backing of top TV brands. LG what it claims is the first TVs in the U.S. that supports wireless HDMI. LG's LHX LCD, debuting this week at CES, is a 55-inch HDTV that sports a separate "media box" where you plug your cable boxes and Blu-ray player into.
Right now Internet or networked TV's are very limited in the breadth of content they can display precisely because there isn't an easy way to stream bandwidth intensive content to the TV.
Consumers have a lot of pent-up desire for a wire-free home entertainment center, never mind HDTV. I was disappointed I didn't hear more about short-range HD radio technology. I predict we'll be hearing a lot more about consumer technologies for bringing content to your HDTV—no wires required.
Faster Refresh Rate. Never mind the futuristic stuff from LG Display, which showed 480Hz technology at CES. Several manufacturers showcased 240Hz technology. And across the board, manufacturers admitted they were bringing 120Hz panels—last year still a step-up premium—downstream into mass-market products. Only the lower tier manufacturers, like RCA and Polaroid, said they were still looking at 120Hz as a step up. Of Sharp's models, for example, all new TV's introduced at 40-inches and up now use 120Hz technology. Only one line in Sony's Bravia HDTVs lacks 120Hz technology—the Bravia S5100-series.
The use of higher refresh rates only helps to close the performance gap between LCD and plasma televisions, notes Gagnon. "But I think there are diminishing returns at higher refresh rates and it is still expensive to do," Gagnon said. He added that this made it all the more impressive to him that manufacturers are pursuing 120Hz so aggressively.