The folks from EMC and Iomega—which EMC bought in April 2008—were united at this Macworld Expo, showing off a number of new storage and backup products. The most significant news was the announcement of a public beta program for EMC Retrospect 8.0 for Macintosh.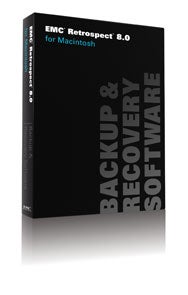 The new backup program will feature a redesigned user interface and a new engine, installed as a System Preference pane, that can run up to eight simultaneous backup, restore and copy and operations. The software can backup Windows XP and Vista clients, including those running under VMWare Fusion and Parallels.
Look for EMC Retrospect 8 for Mac in the first quarter of 2009. It will come in three different configurations—Retrospect 8.0 Desktop 3-User ($129; upgrade, $59) Retrospect 8.0 Single Server 8.0 ($809; upgrade from Workgroup edition, $539), and Retrospect 8.0 Multi Server ($1,669; upgrade from Server edition, $939).
Read more…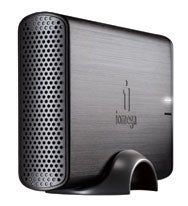 Retrospect may have grabbed the attention at Expo, but the booth also showcased Iomega's new Home Media Network Hard Drives. Starting at $160 for a 500GB model, the Home Media Network Hard Drive features a Gigabit Ethernet connection and support for iTunes as well as for Universal Plug and Play (UPnP) and Digital Living Network Alliance (DLNA) certified devices. It allows you to backup computers in your home network, share songs over iTunes, and stream digital content to computers, digital picture frames, gaming consoles and networked TVs. A 1TB version will be available for $229.
Those looking for more capacity and more business focused features should check out Iomdega's StorCenter ix2 NAS (Network Attached Storage) products. In 1TB or 2TB versions ($300 and $480, respectively), the ix2 products have two internal hard drives, Gigabit Ethernet, and two USB inputs for printers, Bluetooth dongles, or extra storage capactity. The products can work with Mac, Windows and Linux computers. They supports UPnP and DLNA certified devices.