As you've probably noticed, Macworld's staff spent last week covering Macworld Conference & Expo here in San Francisco. In the past, covering the show required me to carry around various printouts—my schedule of meetings and events; a list of vendors with booth locations; and Expo floor maps—as well as an official show guide and a notepad for jotting down notes.
Those who've read my past articles know that I can geek out at times; I like to try various technologies just to see how I can apply them and how well they work. So for this year's Macworld Expo, I tried to cover the show floor using nothing but my iPhone. (Just the show floor; I used my laptop during Phil Schiller's keynote.)
It was an interesting experiment, and one that worked well in many ways. But it also wound up highlighting the iPhone's biggest flaws.
Read more…
What worked
Throughout the week, as I roamed the show floor and met with vendors, the iPhone became a virtual appendage, helping me organize my days and keep in touch with the outside world.
Of course I used the iPhone's Calendar app to keep track of my appointments—Expo events, private meetings, Macworld podcast sessions, speaking appearances, receptions, and, yes, parties. (The Maps app was useful for finding those parties.)
And the iPhone was obviously a great communications device. I used its SMS and phone features when I needed to send or receive an urgent message or to actually speak with someone. I used the Twitter clients Twitterrific and Tweetie (iTunes links) to send out updates about things I saw at the show (here's an example)—a number of Macworld editors' "tweets" appeared on video displays around Moscone Center. Finally, I used the iPhone's e-mail client to keep up with the hundreds of messages I received each day of the Expo; to send info to my fellow editors about interesting products I saw; and for non-urgent communication.
A quick aside: Using the iPhone for e-mail had two significant benefits. First, it meant I could leave my laptop in my hotel room, significantly lightening the load I had to lug around. But it also made it easier for me to check my e-mail regularly: I didn't have to put all my bags down, pull out my laptop, and search for a decent Wi-Fi signal. With the iPhone, much of my e-mail management was done during "down time"—while grabbing a bite to eat, waiting to speak with a vendor, or standing in line—that would have otherwise been wasted. So instead of just skimming subjects and dealing with the urgent messages, I was able to read and deal with many messages as they arrived. (Yes, Expo is that crazy for us, which explains why most of us fall into a deep, deep sleep at the end of the week.) Whereas previous Expos left me with an overflowing Inbox upon my return to the office—several years I had more than 1,000 messages waiting at week's end—by lunchtime this Monday I was down to 20 or so messages to deal with.
The iPhone also helped me manage my treks around the Expo floors. To understand this part, you need some background: Each Expo, the Macworld editorial staff visits nearly every vendor on the show floor to see their products and to give them some one-on-one face time. To prepare, we create a spreadsheet listing every vendor along with booth number and product area; each Macworld editor then volunteers to visit particular booths based on that editor's beats. Given that my beats include iPod and iPhone accessories, input devices, and Mobile Mac, I had more than 100 vendors to personally visit this year. That's a lot of booths to keep track of.
In years past, I printed out this spreadsheet and marked off, with a pen, each booth I visited. I also carried a Macworld Expo floor map and conference program with me to figure out exactly where each vendor was located. This year, I used a combination of two iPhone apps, Appigo's ToDo and iMacworld, to find those vendors and track my booth visits.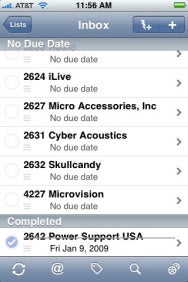 As I noted in my review of ToDo, it syncs with the online service Toodledo; it turns out that Toodledo lets you import tasks from CSV files. So I saved my section of the Macworld vendor-visit spreadsheet as a CSV file sorted by booth number, imported it into my Toodledo account, and synced ToDo. The result was a to-do list on my iPhone with each "task" displaying the booth number and name of a vendor I was assigned to visit. After stopping by a particular booth, "checking off" that task moved it to the Completed section of the list.
But I figured that as long as I was using ToDo, I may as well take advantage of its other features. I created another list called Expo Booths Notable; when I found something especially interesting at a booth, I moved that vendor's entry to this new list. At the end of the show, I had a convenient list of all the vendors or products that warranted a follow-up. I also used the Notes field in each task to type brief notes about interesting products. Finally, if I saw something that was more appropriate for one of my colleagues, I used ToDo's Share Task button to send the task—vendor name, booth number, notes, and all—to him or her. I ended up using an actual paper notepad only once the entire week: to take detailed notes for my iMovie '09 preview.
As for the iMacworld app, although it wasn't the most stable I've used—it regularly crashed on me—it was great for getting more information about a vendor, as well as for finding exactly where on the show floor that vendor or a booth number was located, taking the place of paper maps and show programs.
With all these tools and capabilities packed into my iPhone, I found myself carrying less than ever while being far more productive—it was the best Expo experience I've had as a journalist.
What didn't work
Not everything went as smoothly as it could have. The most obvious issue I experienced—along with other Expo attendees—was network coverage: there were a number of times last week when I couldn't get a data signal of any kind. Given that I've had very few signal issues with my iPhone outside Expo, even around Moscone Center, I blame most of this on the sheer number of iPhone users in such a small place, as well as that space being over-saturated with countless wireless signals—Wi-Fi, 3G, EDGE, CDMA, and various proprietary wireless networks.
The second issue that drove me nuts over the course of the week was the iPhone's poor multitasking. Or should I say the complete lack of multitasking other than phone, e-mail, and SMS data reception. Although this has been an issue for me at various other times, it was much more of a problem while covering the Expo because, as noted above, I was regularly using at least seven apps—Calendar, Phone, SMS, Mail, a Twitter app, ToDo, and iMacworld—and switching between them many times each hour. If I was viewing my list of vendors in ToDo and wanted to use iMacworld to find a vendor's booth on the show floor, that meant quitting ToDo, launching iMacworld—which was very slow to launch—and then finding the booth on the map. Then I had to quit iMacworld and launch ToDo again. A few times a day is no big deal. Hundreds of times each day was torturous. If you've seen any demos of Palm's just-announced Pre (by the way, what's up with that name? It's like calling your product "beta"), you know that multitasking can be done well on a phone.
Next on the list was a familiar iPhone bugbear: the lack of copy-and-paste. It's normally annoying, but it was infuriating last week, as I regularly tried to get text from an e-mail message to ToDo, or an address from Calendar to Maps, or a note from ToDo to SMS. It was the first time since I've had an iPhone that the lack of copy-and-paste was more than a minor annoyance; with the iPhone as my primary computing device, not having copy-and-paste was a serious impediment to my productivity.
Finally, many an iPhone-wielding conference speaker or media member was struggling with battery life. While people have complained about battery life since the first iPhone was released back in 2007, the phone can generally get you through the day under moderate use. But under the conditions I was using it, my iPhone 3G was nearly out of juice by midday.
I wasn't alone: perhaps the most popular booth among media and speakers—in terms of where they were spending their own money—was that of Richard Solo, where you could buy the company's original Backup Battery for iPhone/iPod for $20 (normally $50) or the new-and-improved 1800 for iPhone for $40 (normally $70). Indeed, a representative told me the company had sold thousands of batteries in the first two days the Expo floor was open, and I saw many iPhones connected to such batteries during meals and meetings. Granted, many people won't regularly be using their iPhone this heavily. But I've heard from many an iPhone owner who puts it through just such a ringer to and from work—for example, during an hour or two on the subway or train—every day. (This is why an external battery is one of my most-recommended iPhone accessories. If you're in the market, we'll soon publish a review roundup of such batteries.)
Laptop or iPhone?
Overall, I was quite pleased with the iPhone's performance as a limited stand-in for my laptop, even though I needed an external battery to get through the day. Still, while I've said in the past that I could leave my laptop at home if the iPhone let me use a portable Bluetooth keyboard for text entry, I'm adding some caveats to that statement after last week's experiment.
The iPhone certainly performed yeoman service, lightening my load and providing most of the vital functions I needed while walking the show floor. But I also found myself frustrated by the things it couldn't do, and I had to revert to my laptop for "real" work in the evenings. While these shortcomings may be acceptable during casual use—after all, the iPhone is still a phone—they point to things Apple needs to improve to make the iPhone a more-viable business and power-user tool. They also highlight areas Apple will need to focus on if the company is to take the next logical step and make a larger, iPhone-OS device that can actually replace a laptop for many people.