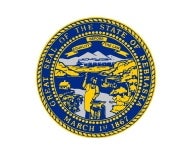 In another weekend item about politicians getting a Mac, the Omaha World-Herald is reporting that the Nebraska Legislature will soon be acquiring 70 new MacBook Airs. That'll be one for each of the 49 state senators (Nebraska's state legislature is unicameral) and the rest for staffers and backup machines.
However, not all is well down on the Great Plains, as one senator is unhappy with the expense of $1,524 per machine—didn't anyone tell these guys that they're getting a pretty good discount off the $1,799 list price?
Sen. Tony Fulton told the newspaper that the legislature didn't need "designer laptops," but finally said that he would begrudgingly accept the decision of the Appropriations Committee.
Another senator, Kent Rogert of Tekamah said that the MacBook Air "fits inside my jacket." Dude, you must have some big jacket pockets. Plus, don't they have sleeves over there in Nebraska?
This new hotness is replacing the senators' old and busted circia 2004 Fujitsu Lifebook, which apparently were so lame and/or heavy that the newspaper also noted: "At least a couple of senators in past years asked legislative pages to carry the clunkier laptops."
We're guessing that these senators were too embarassed to be seen walking in and out of the Unicam with such a lame machine under their arms.
[via Cult of Mac]