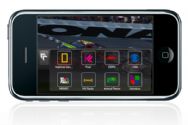 One of the more exciting announcements at Macworld this year was Sling's addition of HD support for Mac as well as a version of their player software for the iPhone. I've been eagerly awaiting both for some time now, having followed the company ever since they started offering their Mac client (I subsequently bought an original Slingbox, which the guys at the Sling Media booth dubbed "old school").
Sadly, per the Echostar purchase agreement, co-founding brothers Blake and Jason Krikorian will be leaving the company and their respective posts as CEO and SVP of business development. No doubt their leadership has helped guide the company into the success it currently is. Three other key executives, Jason Hirschhorn (president), Ben White (chief creative officer), and Greg Wilkes (VP of sales) are also leaving.
When the company was originally bought by Echostar, I feared that the new owner would steer business in a damaging direction, making integration with its dish TV services the priority. So far, this hasn't been the case, but now that this five-pack of executives is leaving, I need to reaffirm that hope and avoid the fear that perhaps the cofounders were the ones singlehandedly (well, quintuple-handedly) guiding the sustainability.
Now, more than ever, Echostar needs to show that it's interested in continuing to develop Sling as a standalone success rather than as a shortsighted ploy to boost TV service subscriptions. Because, people, I need to be able to watch some TV on my iPhone.