The iPhone may be a relatively new gaming platform, but there's some good stuff charging its way that can't be ignored. Take Dr. Awesome, a medical-themed puzzle game developed by Escalation Studios and published by Ngmoco.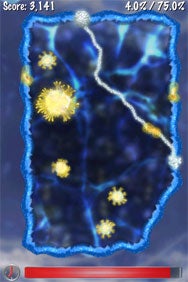 Dr. Awesome places the player in the shoes of Dr. Awesome, the world's greatest microsurgeon. There's an epidemic brewing—patients suffering from viruses have been streaming into the hospital, requiring your surgical skills. The catch: the patient list is populated with people from your Contacts list—meaning it's up to you to save the people you know.
Read more…
You go to work in a series of surgical sequences, where the game really becomes interesting. Here, you must cut apart a cell with a "tilt-guided micro scalpel" in order to isolate the viruses.
As the levels go by, you'll advance in rank (and thus being given more chances to save each patient) while also fighting more and faster-moving viruses within each cell. The viruses become more complicated, too—they'll start firing projectiles at you. But don't worry—the power-ups you can grab (speed boosts for you, slow-downs for the viruses and additional time to complete each level) become that much more valuable.
Detailed, polished graphics and a smooth frame rate make Dr. Awesome visually enjoyable while the title's sound and music combine the best elements of a lighthearted puzzle game with an overtly serious medical soap opera. This, mixed with tongue-in-cheek comments from the other hospital staffers informing you that the patients' lives as well as the fate of the world are in your skilled hands create a sense of fun.
It's the controls that make or break a game, and Dr. Awesome does a great job utilizing the iPhone's accelerometer to control which way the micro scalpel goes. Simply tilt the handset to turn the scalpel on a dime. That lets you make quick incisions to reduce the number of viruses on the screen as well as immediately "bounce" off a cell wall to begin the next incision. Dr. Awesome is easy to learn—you'll get the basics down within only a few rounds of play.
Though addictive, Dr. Awesome has a few quirks that could be corrected. Gameplay can get repetitive, as the play style never shifts to anything new. Still, a reliable save system that picks up where you left off come in handy and make Dr. Awesome more than worth its $1 price tag.
Dr. Awesome is compatible with any iPhone or iPod touch running the iPhone 2.1 software update.
[Chris Barylick is a contributing writer for Macworld who wasn't too bad at dissecting fetal pigs in high school biology. This in no way qualifies him to be a microsurgeon.]