Cartoon Network has announced plans to launch its massively multiplayer online game FusionFall on Wednesday, January 14, 2009. The game costs $5.95 per month; a $19.99 boxed version will also be available that includes four months of play.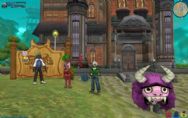 FusionFall is an MMOG featuring Cartoon Network's stable of original cartoon creations, including Ben 10 Alien Force, Dexter's Laboratory, Foster's Home for Imaginary Friends, Ed, Edd 'n Eddy, The Powerpuff Girls, Kids Next Door, Samurai Jack and others. The game even features voice over work done by the original TV show talent. You need to help them save the world from an alien invasion.
Built on Unity Technology's 3D graphics engine, FusionFall is launching on multiple platforms including the Mac. The software has been in beta for the past few months, where it has generated 2.5 million player accounts. The game was released in beta following a press event.
Minimum requirements call for Mac OS X 10.4 or later, an Intel-based Mac running at 2.0GHz, 512MB RAM, Nvidia or ATI-based graphics, and 1024 x 768 display.
FusionFall has been rated E10+ for everyone age 10 and older by the ESRB.
Updated 1/13/09 6:30PM ET: Added system requirements and corrected pricing.