Let's conclude my trilogy of reports from Intuit's booth at Macworld Expo, by circling back to the very first one—a story on Intuit's plans to produce a native iPhone app that complements its Quicken.com online personal finance service. That blog post generated some feedback from Macworld.com forum member Planobt, who wrote:
This is all well and good, but when are mac users going to get access for the business community? When are they going to extend Quickbooks Online Edition to users with browsers other that IE?
The answer to that question: soon.
Read more…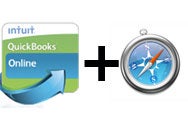 Among the many things on display at Intuit's Expo booth was a demonstration of the company's QuickBooks.com online accounting program running on Safari. The company won't give a time frame as to when the Safari-compatible version, currently in private beta, would be ready, but an Intuit representative told me that it was coming soon. Also in the works: an online version of QuickBooks that users will be able to access through the built-in Safari browser on their iPhones and Firefox compatibility.
A clarification from Intuit added after this article initially appeared: QuickBooks.com users can already view their data via an iPhone; what Intuit is working on is adding edit/write capabilities.
That "coming soon" time frame may be of little consolation to some Mac users, who feel understandably snubbed that a service that's been available for years on the Windows side is only now arriving on the Mac. (The move was made possible by Intuit's decision to no longer use ActiveX, Microsoft's component object model for Windows.)
When QuickBooks.com does become available to Mac users, you'll find an online service geared toward businesses that aren't necessarily well-versed in the finer points of accounting. (Intuit touts the desktop version of QuickBooks—which is available on the Mac—as a more sophisticated accounting tool aimed at more advanced users than the ones attracted to the online offering.) The online edition of QuickBooks tracks the money coming in and going out of your business. You can use it to track payments, send out invoices, create reports, and—with the help of add-on packages—manage payroll and merchant services. Most significantly, QuickBooks online offers multi-user support for up to 20 users. So it's easy to understand why Mac users have been clamoring for the online product over the years.