The biggest change to television broadcasting since the advent of color will occur on Tuesday, February 17, when radio towers will start sending a digital signal—though Congress is currently debating whether to postpone the date. After the switch, older televisions receiving signals over the air with an antenna will not be able to tune in, potentially affecting over 7 million households still unprepared for the switch, according to Nielsen. Here are some common questions about the transition, and the answers you need to know.
Do I need to buy a new television?
No. But if your TV lacks an ATSC digital tuner, you'll need to buy a digital converter box. The federal government has a coupon program that will cover US$40 toward the cost of a new converter box, which starts at around $50. I purchased a Lasonic LTA-250 for $50 from Amazon; it cost me only $10 after the $40 coupon and free shipping. The devices largely work in the same way, though some models add perks such as a program guide. The converter will also display HDTV signals in standard definition.
Where do I get a coupon for a DTV converter box?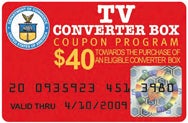 The government has set up the dtv2009.gov Web site and a phone number (888-DTV-2009), through which every household can order up to two coupons worth $40 each toward a new DTV tuner. The coupon program is run by the National Telecommunications and Information Administration, a division of the Department of Commerce, which maintains a list of approved DTV-tuner devices eligible for the coupon discount. You can also find a list of retail stores where you can buy or order set-top boxes and redeem the coupon. The coupons carry an expiration date. I received my coupons about three weeks after ordering from the site, and my DTV tuner took another week to arrive, so you should order now. If you try to apply but you get a message saying no more coupons are available, don't fear: Your name should go on a waiting list, for when additional funds free up from unclaimed coupons.
Do I need a new antenna?
Possibly. I just attached my old rabbit-ears antenna to the tuner, and the signal came in fine—DTV uses a radio band that's within the same VHF and UHF range as traditional signals are. Your reception experience will vary, however, and depending on a number of factors—including your proximity to the DTV signal—you may need a new antenna. If you have trouble receiving signals after you install your DTV tuner, you may want to try replacing your antenna to see if reception improves. Many companies are selling antennas specially designed for use with the DTV converter boxes' digital signals. But the days of wrapping an antenna in foil or making a friend stand next to the television are probably over, since neither tactic is likely to help.
Will my picture quality improve?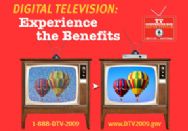 Probably. Digital channels, including HD, come in clear and crisp—when they come in at all. Unlike analog signals, for which interference or poor reception might produce static or "ghosts" in the image, DTV either displays or it doesn't: Channels with poor signals generally won't resolve at all, and if they do, they'll display in scattered blocks or images, or the audio and video will skip every few seconds.
What if I have cable or satellite?
Most cable and satellite providers have been delivering digital signals for a while now; the set-top box that comes with your subscription decodes those signals. The DTV transition affects only "terrestrial broadcasters," or free-over-the-air signals.
If you have no cable box and your basic cable is plugged directly into your TV, check with your service provider about what to expect come February 17. Generally, providers have agreed to maintain the traditional analog signal over basic cable for now, so you don't need a converter box, nor do you have to rent a cable set-top box, to use your analog television after the digital transition. Many cable and satellite providers are using the transition to pick up new customers and are offering discounts on subscriptions and installations.
What about audio? Can I still use the stereo amplifier connected to my TV?
If you have a stereo amplifying the audio coming out of your television, it will still work fine. The new digital broadcast standard supports Dolby surround sound as a part of HDTV signals, so if your amplifier has an S/PDIF digital audio input, consider investing in a DTV converter that has the corresponding digital audio output. Such models are generally more expensive; one example is the $80 Centronics ZAT502 HD, which is eligible for the $40 NTIA coupon.
How can I connect a digital converter box if my TV has just one input?
If your television has only one input (say, it's an older set with one RF input), you may be able to connect both a tuner and a VCR by attaching the tuner to the VCR and then connecting the VCR to the TV. If you have more devices than inputs on your TV, you can purchase a video switch for multiple devices from almost any electronics retailer.
What about receiving and recording signals on VCRs, DVRs, or PCs?
If you're using a VHS deck to receive and record programs, the tuner in the VCR will probably no longer work, so it won't be able to switch channels automatically. Instead, plug the deck into your DTV tuner, set the VCR to the channel the device displays on (usually channel 3), set the time you'd like to record, and then set the tuner to the channel you want to record. If you have a digital video recorder, such as a TiVo, it likely already supports digital signals.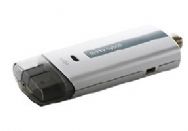 The same goes for TV-tuner devices for PCs, such as USB devices like the Elgato EyeTV Hybrid or Pinnacle PCTV HD Pro Stick. Generally, if a device receives HDTV signals, it will work—consult the documentation to make sure it supports ATSC, which is the official name of the new digital broadcast standard. If you already have a DVD recorder with an ATSC tuner built in, or a PC-based ATSC TV tuner, you'll need to rescan your stations come February 17.
How do I get the most out of DTV?
If you've been looking for an excuse to upgrade your home theater, the upcoming transition is a pretty good one. The typical 42-inch HDTV has dropped in price to around $1000 or less, while 32-inch models can be found for under $600. For HDTV shopping tips, check out our HDTV Buying Guide. And refer to our Top 5 charts for the best 42-inch, 46- to 47-inch, and 50-to 52-inch HDTVs we've tested.