iPhone and iPod touch users who want to listen to stream music through their mobile device. Slacker is the latest to throw its knit cap into the ring, introducing its Slacker Radio program to the App Store.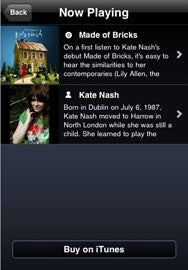 Slacker Radio gives iPhone and iPod touch users running the iPhone 2.2 software update access to Slacker's entire music library. That allows users of the free app to listen to more than 100 stations programmed by experts and more than 10,000 stations dedicated to specific artists. Users can also create their own customized stations via the iPhone.
Among the other features included with Slacker Radio are artist biographies, album reviews, and peak-ahead song previews. Slacker touts its app as a great way to uncover new and undiscovered music.
Another recent addition to the App Store, NoteWorthy also helps you discover new music. The $1 app from Roy Kolak helps you remember artists and songs that you want to listen to later. When someone recommends a song to you or you hear a track somewhere that you like, use NoteWorthy to let it remember the artist's name. You can then get details from Last.fm such as similar artists, biographies, album names, and track names.
Other apps of interest that were recently added or updated at the App Store include:
Read more…
Got an app you've just released to the App Store? Drop us a line.