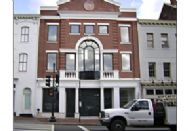 Local media, including the Georgetown University student newspaper, The Hoya , a local newsletter called The Georgetown Current , and The Washington Post's Raw Fisher column are all reporting that not all is well in the capital's ritziest neighborhood.
In December 2008, the Georgetown Advisory Neighborhood Commission rejected Apple's third proposal for its property on 1229 Wisconsin Ave. NW, saying that it would be too modern for the 18th century shopping strip. A year and a half ago, Apple paid $13.4 million for the location which, if it had been approved, would make this the first Apple Store in the nation's capital. (There are Apple Stores in neighboring suburbs in Virginia and Maryland.) The property, which used to be a FCUK store, has sat vacant ever since.
Basically, the issue comes down to how Apple plans on changing the storefront. To date, neither the commission nor Apple will release the actual design, but ANC chair Ed Solomon told The Hoya: "[The plans consist of a] very plain, flat wall with a large cut out in the shape of an apple. The general consensus is that the plans are too severe for the historic district."
The Post's Fisher and others point out that there are already "modern" storefronts on that same strip, and that Apple has successfully preserved local historical and architectural integrity in its stores in New York's SoHo and on London's Regent Street.
However, The Current notes (in its baffling PDF-only publication), without citing any sources: "Those latter stores' facades, however, were historically protected and therefore retained, while the Wisconsin Avenue site will be demolished."
I understand the need for historic preservation, but at the same time, it seems like there's got to be a way to keep everyone happy here, no? Can't Georgetown or D.C. put some kind of historical protection to preserve the facade while at the same time allowing the store to go in?