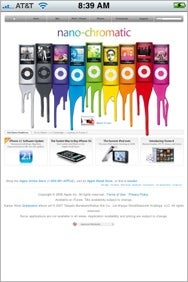 For the most part, I've been pretty satisified with my iPhone's built-in browser. It seems to work generally well, although it lacks the customization features and options that I've become accustomed to on my MacBook's version of Firefox.
However, MacRumors notes that, starting earlier this week, Apple did an about-face, finally allowing new third-party browsers for the iPhone. There's an implicit catch however, namely that all of the browsers must be based on the same WebKit engine that underlies Safari itself. So don't expect to see Firefox anytime soon.
Astute readers and Apple watchers will remember that previously, the company has disallowed apps on the iTunes store that compete with Apple's own programs. Then again, there are some applications ( Night Camera, anyone?) that obviously compete with Apple's own factory apps. Has Apple given up on this tactic?
There are four new browsers (running from free to $2) that offer various features, including one that doesn't include a web history ( Incognito), another that fills up the entire screen with a browser ( Edge Browser), and yet another ( Shaking Web) that uses a "sophisticated algorithm to compensate [for] small hand shaking."
If you take these for a spin, let us know in the comments what you think, ya hear?