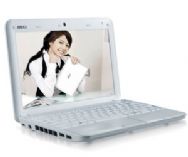 Hacking a copy of Mac OS X and installing it on a PC is technically a violation of the OS X license agreement. This is one reason why Apple sued Psystar and why you don't see Dell suddenly selling "Mac-compatible PCs" that bundle a stock Dell system with a retail copy of Leopard.
But it can be done, as we've seen from many sources out there on the Internet. And members of the tech media would be foolish not to investigate all the possibilities. Our own Rob Griffiths built a Mac clone out of parts. And Wired's Brian Chen, a former Macworld editor, has detailed his successes in running Mac OS X on a Netbook. Last week at Macworld Expo, at least one person in the Speaker's Lounge was doing all his work on a hacked Micro-Star International Wind laptop. And I freely admit that I've got one in my possession for the same purpose.
Sometimes we stride on legal gray areas because it's our job to find out as much as we can about technology. Which is why I was taken aback when Brian reported Wednesday via Twitter that "Apple is suing wired for my video tutorial on hacking Netbooks to run Mac OS X." That was news that Gizmodo breathlessly relayed to the world. Just one thing: it's not really true, as Brian recently pointed out on Twitter.
According to Wired.com news editor Leander Kahney, who exchanged e-mail with Macworld's Jonathan Seff about the incident, Wired received a complaint from Apple's lawyers about some articles and videos related to hacking PCs to run Mac OS X. Kahney says that Wired is evaluating the complaint. However, Brian's video appears to have disappeared from Wired.com, at least as of this writing.
So what's going on here? My best guess is that while Apple appears to not be bothered by some knowledge about the existence of hacked systems — the company never said boo to us about any of Rob's extensive coverage of his Frankenmac experience — providing step-by-step instructions on how to do a hack yourself was a step too far. It's certainly a debatable point, though at Macworld we've generally erred on the side of discussing the matter without providing a map on how to actually do the deed.
Brian and Wired obviously wanted to push the envelope — and did a good job with their coverage — but perhaps they did cross an invisible line with Apple. Now we'll just have to see whether providing a step-by-step guide violates the law, or if Wired and its parent company, Conde Nast, decide to remove Brian's stories and videos rather than enter a protracted legal battle with Apple.