When Apple sat down to tackle an update for iPhoto, it knew what features it wanted to tackle—the ones that other image editors and organizers had failed to master.
"What we've seen with Face Detection and Geotagging so far is that they haven't been useful," Rob Schoeben, Apple's vice president of applications product marketing told me in a post-keynote briefing at Macworld Expo. "If you're not a pro, photo tagging has failed, but with iPhoto it's really a lot of fun."
Schoeben's comments give us some insight into how Apple approaches software updates, particularly for a feature-rich program that made its debut seven years ago. When a product has been around for that long, it's hard to come up with new features that actually advance the program's capabilities, as opposed to loading it down with superfluous features.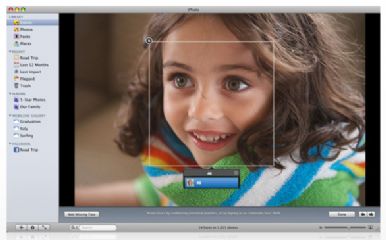 Yet, Apple appears to have pulled off the former with the iPhoto '09 updated announced last week as part of the soon-to-be-shipping iLife '09 suite. iPhoto '09 is highlighted by two additions—Faces and Places. Faces uses face detection to identify people in your photos. Once you tag a few photos with the same, iPhoto can search through other images in your library, looking for that same person. Places takes advantage of the GPS features that now come in many cameras (as well as with the iPhone 3G and its built-in camera) to locate where you were when you shot a picture. You can also add location information to images you've shot with older cameras or ones that are already in your library. Our iPhoto '09 preview has more information on Faces, Places, and other new features in the image editor and organizer.
Among those other features is iPhoto's integration with the Flickr and Facebook social networking sites. Schoeben explained that you can tag a person in your photo and upload it to Facebook—the tag will be uploaded along with it. For instance, if a photo of me was tagged "Jim" and then uploaded, that's how it would show up on Facebook, though it wouldn't be associated with my Facebook profile. However, if you tag the photo using my e-mail, it would then show up on my Facebook profile the way other Facebook images do.
"Sharing is what people want to do," Schoeben said. "We don't want to replicate what's out there, we just want to tap into it."
Along with GarageBand and iMovie, iPhoto saw the biggest changes in the iLife '09 update. But that leaves two other iLife components that have received little attention in the past week—iWeb and iDVD.
iWeb, Apple's Web publishing application, receives a minor update in the iLife '09 suite. The changes allow iWeb to publish to any FTP server, not just your MobileMe account. iWeb also added some new widgets and gained a widget browser with the update.
As for iDVD, nothing will change in the version that ships with iLife '09. (That marks the second consecutive iLife update in which little has changed with the DVD-burning application.) Apple notes that some changes in iMovie '09 make it easier to move your projects to iDVD.
Why no major additions to either iWeb or iDVD? "Photos, movies, and music have always been the heart and soul of the suite," Schoeben said.