EdgeRift has released AllSecure 1.0, a new password and information manager for Mac OS X. It costs $39.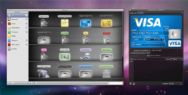 Formerly known as RiftVault, encrypts data using a graphical interface. It includes almost a dozen built-in templates used to store passwords, bank account information, credit cards, serial numbers, calling cards, frequent flyer info, insurance information, secure notes and other data. You can drag and drop files in for safe encryption.
AllSecure uses AES-256 encryption with an SHA-256 hashing algorithm. It uses memory-scrubbing to prevent info from staying in RAM, and has an OpenSSL-based password generator. Other features include Safari-compatible Web login autofilling and user-configurable autolocking.
System requirements call for Mac OS X 10.5 or later and a G4/867MHz or faster.