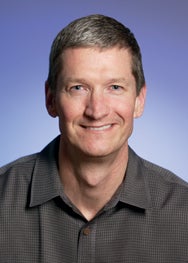 As Apple's chief operating officer since 2005, Tim Cook has overseen every aspect of Apple's supply chains, sales, and support services as well as the company's Mac division. And now he'll handle the day-to-day operations of Apple as well—at least until June while CEO Steve Jobs takes a leave of absence from the company.
Jobs announced Wednesday in an e-mail to Apple employees that he would take a medical leave from his post to deal with lingering health issues. That thrust Cook—largely unknown outside of Apple—into the interim CEO post.
"I know he and the rest of the executive management team will do a great job," Jobs told employees.
While Cook has maintained a low profile since becoming Apple's COO nearly four years ago, he has a strong reputation in the business press for keeping the company running smoothly outside of the limelight. A 2006 Wall Street Journal Profile called him a "low-key operator" who helped fix the manufacturing inefficiencies that dogged Apple in the mid- to late '90s. Cook, 48, also has a reputation for being detail-oriented.
He's also familiar with stepping in for Jobs. When the Apple CEO was treated for pancreatic cancer in 2004, it was Cook who took over the day-to-day operations then.
Cook participates in Apple's quarterly conference calls with analysts, along with chief financial officer Peter Oppenheimer. He also sits on the board of directors for Nike—the only executive at Apple other than Steve Jobs to sit on another company's board, according to Fortune's extensive profile of Cook from last November.
Cook joined Apple in 1998, hired by Jobs to tackle Apple's operations. According to Cook's Apple bio, he previously worked for Compaq, IBM, and Intelligent Electronics. Cook has an M.B.A. from Duke University, and a Bachelor of Science degree in Industrial Engineering from Auburn University.