Guitarist Bruce Kulick gained worldwide notoriety as the lead guitar player for Kiss. Since leaving the band Kulick launched a successful solo career and for his third CD he is tuning up his guitars and his Macs.
Kulick said he began working on the as yet untitled third CD back in 2004 and started laying down tracks last January. While writing the songs, he said iTunes became his collection of ideas, holding the music and vocals and other clips that he may use for the CD.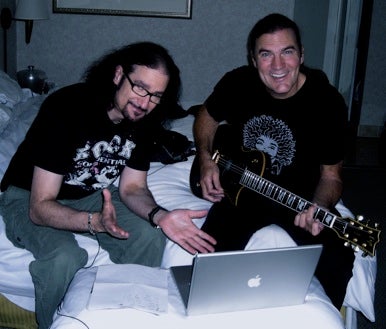 While Kiss may be Kulick's most well known gig, he was also a member of Meat Loaf's touring band on the Bat Out Of Hell show in 1977. After that gig he formed a band called Blackjack with an aspiring singer named Michael Bolton.
Kulick was even considering joining Billy Squier's band after playing on his debut album. The job with Squier was shelved after receiving the offer to join, where he played for twelve years.
Kulick said he has used a PC in the past, but not for his music creation in the last few years.
"I'm glad I understand the PC, but wow, what a difference there is in using the Mac," Kulick told Macworld.
Since using the Mac for his music creation, Kulick said that he now uses it for everything in his life.
"I'm such a converted freak, I talk to people on the plane about the Mac," said Kulick.
There is no release date set for his third CD, but Kulick keeps a blog updated regularly on his Web site with the latest information, pictures and videos. As for his recording, he'll be sticking with a Mac.
"I'll never go back. To me, it's a Mac world," said Kulick.