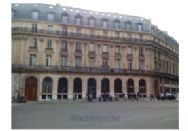 Mes amis, Paris is known for a lot of things. It's the City of Lights. It's the City of Love. Alas, it's still a major European city sans an Apple Store. Heck, Geneva got an Apple Store before Paris. I mean, as much as I love the Swiss, the Canton de Genève doesn't really hold a candle to the Île-de-France.
Last we heard, construction was underway for a store at the Carrousel du Louvre. But its opening date has been about as elusive as a Budweiser in a Parisian cafe.
However, French Mac blog MacBidouille is reporting that according to "very reliable sources," the first Parisian Apple store will in fact be on rue Halevy, behind the Garnier Opera house. If true, this would be a prime location for Apple, as it's just off of the fashion and shopping strip on Boulevard Haussman.
There's not much in the way of evidence at this stage to suggest that the report is accurate, other than the fact that the facade screams a veritable phalanx of Apple logos, à la Regent Street. N'est-ce pas?
[via MacNN]