PreSonus released a new digital mixer and a new software application for the Mac, making it easier for users to plug in and record.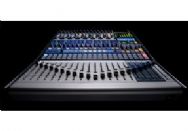 The StudioLive digital mixer has 16 XLR mic inputs and each channel has a 1/4-inch TRS balanced line input. The mixer also has four Subgroup outs, six Aux bus inputs and outs and main outs that are both XLR and 1/4-inch.
StudioLive also comes with a mic input for the talkback channel, 1/4-inch control-room outputs, a 1/4-inch headphone jack, and coax S/PDIF digital outputs.
The mixer connects to the computer through its FireWire connection. Because it uses FireWire, it has the ability to route all 16 channels to your Mac separately. This means that you can record individual tracks for the kick drum, snare, toms, guitars and vocals.
With a free firmware upgrade the StudioLive mixers can be daisy-chained together. The company said that when you plug in a slave unit, your master StudioLive detects it, gives it an address, and merges the buses to the master unit.
In addition to the hardware, PreSonus also released a new software application called Capture that is specifically designed for use with StudioLive.
Capture is preconfigured to record with StudioLive. According to PreSonus, all mixer channels are correctly routed to Capture tracks, so once you launch the software, you just need to record arm the tracks.
Capture can also import WAV files, so you can import files, as well.
StudioLive costs $2,499.95 and comes with Capture.