AmpliTube-maker IK Multimedia used the NAMM music show to introduce a new idea in audio interfaces. StealthPedal is a Wah-like pedal that is also a USB interface to your Mac.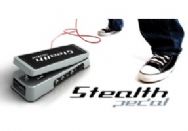 In Addition to being an audio interface, StealthPedal is also a software controller, meaning that it can control a variety of parameters in your guitar amp modeling software. In fact, according to the company, the pedal can be associated with any parameter of its AmpliTube software line.
While IK built the StealthPedal for use with its software, it can be used to control any virtual instrument or effect with MIDI control capabilities.
StealthPedal comes with 24-bit A/D and D/A conversion and 44.1/48 kHz. Two separate inputs are provided for Hi-Z or line level instruments as well as two separate outputs and a separate headphone jack.
The pedal comes with a volume knob and three LED indicators that operate as a status display, tuner or level indicator when used with any "Powered by AmpliTube" software.
The StealthPedal controls can also be expanded with an additional expression pedal and two extra switches for building a mini-pedalboard rig.
StealthPedal will be available by the end of April 2009 and will cost $269.99.