Virtual instrument drum specialist, Toontrack, shipped Drumtracker at the NAMM music show being held this week in Anaheim, Calif.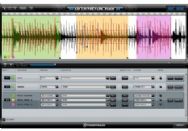 Drumtracker is an audio to MIDI converter, allowing users to take their existing audio drum tracks and turn them into MIDI files. The files you feed Drumtracker do not have to be separated into their original channels, you can use a mixed down version if you wish.
Drumtracker includes presets for the most common drums, like snare, kick, tom, hi-hat and cymbal and it also lets you adjust the threshold of each part to make sure you get everything you want. You can change the velocity, add or remove trigger points manually and save your own presets for later use.
When you have selected the parts of a drum track you want to convert, you can audition the parts using Drumtracker's built-in library of samples.
Drumtracker costs $149 and is available from the company's Web site.