Professional earphone-maker Future Sonics released two new models of its Atrio earphones at the NAMM music show in Anaheim, Calif.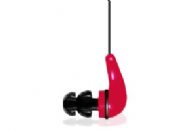 The Earth Beige (model m3) and Ruby Red (model m9) join the Onyx Black (model m5) and Cobalt Blue (model m8), previously released by the company.
With its long history in the professional audio market, the Atrio brand is the first of the company's products that represent a crossover to the consumer space. While the company said many pros are using Atrio for live performances, they are also becoming more popular for gamers and iPod users, as well.
The Atrios features its TrueTimbre technology, which offers natural frequency response of 18Hz to 20,000Hz. They also offer 100% armature-free studio-grade Future Sonics MG5pro drivers.
All of the Atrio earphones cost $199.