iPhone versions of desktop apps were all the rage at Macworld Expo— Marketcircle's Daylite, ProjectWizards' Merlin, and Quicken.com are among the products soon to be available in iPhone form. Add iSale from Equinux to that mix. Only in this case, the mobile version of the auction management app is now available from the App Store.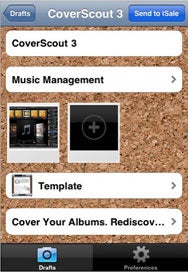 iSale mobile lets you create online auction drafts on the go. You can pick from among 222 iSale templates, write a description for your auction item, and set the starting price, auction duration, and category. When you're back near your Mac (and the desktop version of iSale), you can transfer all that data via WLAN.
The iPhone app is free, but it requires iSale 5.5, which costs $40. (Equinux offers a trial version that lets you try out three free auctions.) iSale mobile works with both the iPhone and the iPod touch.
Other apps of interest that were recently added to the App Store include:
Read more…
Got an app you've just released to the App Store? Drop us a line.