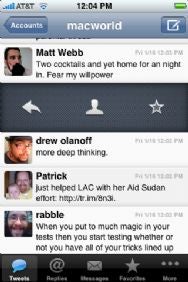 Sometimes being one of the best, most full-featured Twitter clients for the iPhone just isn't enough. Take the case of Atebits' poor Tweetie. It's a really good $3 Twitter client—I find myself moving back and forth between it and Twitterrific ( ). But with 15,000 apps and half a billion app downloads, how do you keep in the public eye and compete with the likes of world phenomenon and app juggernaut iFart Mobile?
You do what Tweetie author Loren Brichter did. You make your Twitter app the world's first combination Twitter client, fart-sound generator, and flashlight.
No, seriously. The new version of Tweetie, 1.2, offers a flood of new features, including the ability to block and unblock users, integration with Instapaper ( ), and cached avatars.
But the money feature is what Atebits calls PEE, short (sort of) for App Store Popularity Enhancer. Turn on Tweetie's special Popularity Enhancer feature and a Flashlight button is added to Tweetie's interface. More importantly, if you swipe across a row in your tweets list to reveal the action menu below, you'll also hear the sound of someone passing wind. And with those two key App Store features done and dusted, presumably Tweetie will fly to the top of the charts.
I'm not sure this is what we had in mind when we begged Apple to open the iPhone to third-party development.