At a Glance
Expert's Rating
Pros
Good prices on ink
Stylish
Easy-to-use front panel
Very good photo prints on Kodak photo paper
Cons
Loud
Some problems using default driver settings with Adobe Acrobat Reader
Some slow print times
Our Verdict
Kodak's ESP 9 is a multifunction ink-jet device that prints, copies, faxes, and scans. The ESP 9 is a versatile device equipped with very good color scanning and printing capabilities but is mediocre in other important areas.
The ESP 9 has Wi-Fi, Ethernet, and USB connectivity. The three-inch LCD screen flips out on an easy-to-read panel that gives you access to copy, fax, and scan features. A jet-black exterior and blue LED panel lights give the impression of refinement, a marked contrast from the shades of gray of many printers. Kodak offers a one-year warranty on this machine.
With its stylish design, the ESP 9 looks at home in your entertainment center, much like a DVD player or stereo system would. Unfortunately, because the ESP 9 is so horribly loud, you won't want it anywhere near your living room, office, or pets that scare easily.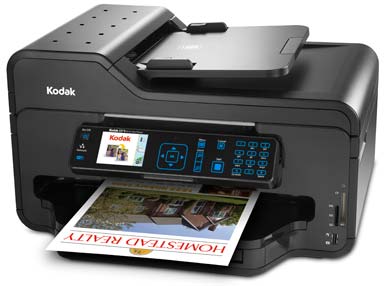 The ESP 9 can print on plain paper, but if you use Kodak photo paper, the printer can read the markings on the back of the paper and adjust its settings for optimal image output. Our Photoshop 22MB image test document received only a Good rating when we used standard premium glossy paper, but improved to a Very Good rating when we switched to the Kodak Ultra Premium Photo Paper. The downside is that this Kodak paper costs $18 for 25 letter-sized sheets—not exactly a bargain. The image quality difference is noticeable enough that you should use Kodak photo paper to produce the best prints. We also found that printing without Kodak paper led to frequent paper jams, and clearing such jams was frustrating.
The pricey paper is offset by the cheap ink replacement costs. Replacing the color ink costs only $15, while a black ink cartridge only costs $10. This is much cheaper than competing printers' ink cartridges, besting some printers' ink prices by as much as $50.
In our timed trials, the ESP 9 produced times that were either sluggish or surprisingly speedy, depending on the difficulty of the task. It's in color printing where the ESP 9 seemed to be fastest, printing our 22MB Photoshop document in 1 minute and 54 seconds. That's a full minute faster than the Epson WorkForce 600 ( ).
On the other hand, when it came to text, the ESP 9 finished our trials with simply awful times. It finished the one-page Word test in 38 seconds on average—three times longer than our top performers. Our ten-page Word test averaged around three and a half minutes, and that's also three times slower than several high-end ink-jets we've tested.
What was most troubling, however, was the performance on our four-page PDF test; when printing documents from Adobe Acrobat Reader, the ESP 9 will print one page but think it has printed all four. We were able to replicate this problem on multiple Macs and we worked around the problem by printing through the Preview application. Adobe Acrobat Reader is arguably the most widely used PDF reading program, and thus the communication error is a rather serious one. Kodak sent us a description via e-mail on how to fix the problem with Adobe Acrobat Reader by adjusting the printer settings, which means you can't use the printer driver's default settings for multi-page PDFs.
Our jury tests were equally up and down. When it came to copies, the ESP 9 got a Fair score; copies were depressingly dark and color seemed lifeless. Scans were better, with our test scan for color quality receiving a Very Good rating and our test scan for clarity awarded a Good rating. Color in our scans was a bit too red and dark, while clarity was a little soft but otherwise quite strong.
The print tests were more impressive. In our Graphics: Fine Lines and Gradients test, the ESP 9 received a Good rating, with one juror noting the printer's struggles at producing an even gray gradient. In our Text Quality test and 22MB Photoshop image test, the ESP 9 was awarded a Very Good rating. The Kodak paper, which we used for our final jury results, did in fact make a difference in producing sharper and more vibrant prints than when printing with plain paper.
Timed trials: Print
| | |
| --- | --- |
| 10-page Word test (normal) | 3:35 |
| 1-page Word test (normal) | 0:35 |
| 22MB Photoshop image (best) | 1:54 |
| 4-page PDF (normal) | 1:48 |
Scale = Minutes: Seconds
Timed trials: Scan
| | |
| --- | --- |
| 8-by-10-inch photo, 600dpi scan, 24-bit | 0:32 |
| 4-by-6-inch photo, 1,200 dpi scan, 24-bit | 1:29 |
Scale = Minutes: Seconds
Jury tests: Print
| | |
| --- | --- |
| Graphics: Fine Lines and Gradients | Good |
| 22MB Photoshop image quality | Very Good |
| Text Quality | Good |
Scale = Superior, Very Good, Good, Fair, Poor
Jury tests: Scan
| | |
| --- | --- |
| Color | Very Good |
| Clarity | Good |
| Copy | Fair |
Scale = Superior, Very Good, Good, Fair, Poor
Specifications
| | |
| --- | --- |
| Print Resolution | 9600 dpi |
| Scanner Maximum resolution: | 2400 at 48 bit |
| Scanner Bit Depth: 48-bit color / 24-bit output | 2400 at 48 bit |
| Connection | USB 2.0, Wireless Wi-Fi, Wired Ethernet, Fax, Bluetooth wireless technology (acessory required) |
| Paper Sizes | 8.5 X 11, 8.5 X 14, 210 X 297 mm, 5 X 7, 4 X 6, standard size borderless photos |
| Cost to Replace Ink | $25 |
| Weight | 21.9 |
| Dimensions | 17.5 X 10 X 17 |
| Paper Capacity | 100 |
| Special Features | Automatic document feeder, scanner, fax |
Macworld's buying advice
The ESP 9 is a multifunction ink-jet that prints color (well), prints black text (slowly), copies (badly), faxes (adequately), and scans (decently). Thanks to its nifty black design, it'll look real cool in your living room. Just turn the TV's volume up and you can tune out the long and loud printing cycles.
[Chris Holt is an assistant editor for, Macworld.]
Editor's Note 1/27/09: Corrected price of paper