Three of the biggest names in consumer electronics have launched a joint nationwide recycling program in the U.S. that allows consumers to return end-of-life gadgets at no cost for recycling.
Sharp, Toshiba and Panasonic began offering the program last week through their joint company, Electronic Manufacturers Recycling Management (MRM), at 280 collection points in the U.S. There are at least two drop-off points in most states but in some, including North Dakota, Wyoming and Virginia, there is only one.
"We have plans to grow this collection network overtime and we'll go from 280 to 400 to 600 to 800, that's our goal at this point in time," said David Thompson, president of MRM, in an interview. Those expansion plans envisage 400 collection points open by the end of 2009, rising to 800 by the end of 2011, he said.
Consumers can drop-off televisions, VCRs, computers, laptops, MP3 players, cell phones and other consumer electronics products produced by the three partners for no cost and most centers also accept products from other manufacturers, although there may be a cost for some products. That typically depends on if the state has a recycling law and if a manufacturer has contracted with MRM to handle its products.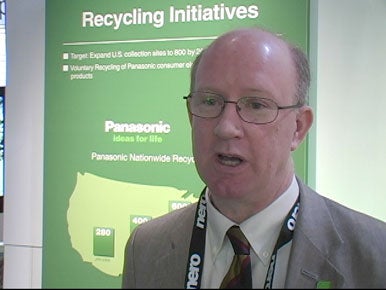 "We're also establishing MRM as a collaborative platform where manufacturers can hopefully come together and share the cost of collection infrastructure and once we do that and minimize that cost or minimize that cost we'll have an opportunity to expand the network even greater," said Thompson.
He said MRM is also committed to recycling "properly" and won't use prison labor or send goods overseas.
Federal Prison Industries (Unicor) is promoting its services as a recycler for electronics companies although has come in for criticism from some environmental groups which claim prisoners are not provided with sufficient protection from toxic substances that might be within products.
The issue of shipping waste overseas has also been well highlighted by groups such as Greenpeace, which has released dramatic photos and video footage from recycling areas in China and India. In some cities, workers dismantle electronics products by hand and burn semiconductors and components on open flames to recover valuable materials inside. The is little oversight and toxic chemicals are released into the atmosphere or left to drain into the soil to eventually contaminate ground water supplies.