The books are barely closed on one holiday, it seems, before stores have already set up decorations and displays for the next holiday on the calendar. The App Store appears to be following the lead of its brick-and-mortar brethren, with Valentine's Day apps finding a prominent place within the store.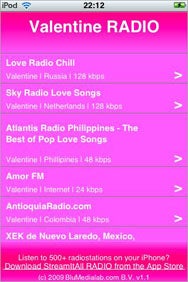 Leading the charge is Valentine Radio from BluMedialab.com. The free download for any iPhone or iPod touch running the iPhone 2.2 software update boasts a selection of romantic streaming Internet radio stations from around the world. The app features a selection of stations across multiple music genres that you can listen to via Wi-Fi and 3G networks.
HeavenlyRain is a Valentine-themed game from Sagaware. In the $1 game, you control a hopeless romantic who must catch things being dropped from the sky by one of Cupid's helpers. Catch a present, a box of chocolates, or a rose, and you get points. Catch a bomb, however, and you lose a life—just like in real-life romances.
Apple's iCards may be gone—as I think I've mentioned once or twice—but you can still send a special message to your sweetie with Love iCard from Wondershare. (The company makes a similar app for birthdays.) The $1 Love iCard app features 10 templates as well as the ability to add photos to personalize your card.
Finally, if you're looking to take things to the next level this Valentine's Day, iPropose offers an iPhone-based way to pop the question. Developer Ginger Fever suggests installing the $1 app on your intended's phone, with the application running. A festive Will You Marry Me? message appears, with tappable Yes and No options.
Of course, as far as I'm concerned, there's a much more significant occurrence than Valentine's Day in February—that's the month when pitchers and catchers report to spring training. If you're getting ready to dust-off the ball and glove after a winter's hiatus, check out Baseball TryoutTracker . Grand Slam Software's $2 app targets coaches, giving them a program that helps them rate the skill of players in hitting, catching, throwing, and running.
Other apps of interest that were recently added to the App Store include:
Read more…
Got an app you've just released to the App Store? Drop us a line.