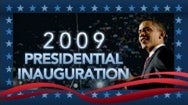 Barack Obama's inaguration is set to begin at 12 pm Eastern (9 am Pacific) today, which leaves you plenty of time to rock out to some Obama-themed tunes during your all-day party. (You are taking the day off work, aren't you?) We're guessing that you've already baked enough hope-cakes to go around.
Unsure of what to play at your presidential party? Fortunately, iTunes has got you covered with a list of the Top 10 songs about Obama, including MC Yogi's "Vote for Hope" and Nas' "Black President." There's also the top 10 "Hope & Change" playslist, including tracks by John Lennon, will.i.am and Bruce Springsteen. Both are found on the iTunes' front door—just click the guy at the top who looks presidential.
That still not enough? Scope out the three Obama iPhone apps (not including the one originally released by the campaign), and both Obama books released in audiobook format. A happy and safe Obama Day to all.