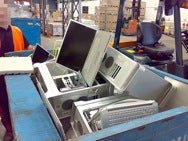 What do you do when you have a pallet of computers that are all broken in some way, but are too expensive to repair? You throw them in a dumpster—or at least according to APC, that's what Apple has done. The Australian computer magazine has some graphic photos of Mac mistreatment. Parents, don't let your kids see this picture.
Writer Dan Warne raises a couple issues with what seems to be going on in the photos. According to his sources, the computers were deamed too expensive to repair and warehouse employees were instructed to destroy them. The source says many of the computers started without a problem. That sounds bad, but that's hardly a thorough diagnostic test of the machine's viability. For all we know, despite a normal startup, the logic board could still be defective, resulting in repeated machine freezing that doesn't manifest for several minutes.
Also, seeing as the computers were thrown in a dumpster, it seems unlikely the computers were destined for recycling as Apple says it does with its products. That seems to be the greater issue here. However, Apple representatives reiterated their policy regarding defective machines, which includes economic infeasibility as a criteria for no repair and recycling when destruction is chosen as a course of action. Assuming that's genuine, one must wonder what exactly this warehouse is doing.