A support document recently published on Apple's Web site confirms what some early adopters of Apple's iWork '09 software suite have already discovered: The retail box version of iWork '09 doesn't require a serial number in order to work.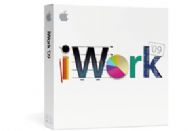 iWork '09 was introduced at Macworld Expo in San Francisco earlier this month. The new version of Apple's work-oriented software suite includes updated versions of Pages, the word processor and page layout software; Keynote, Apple's presentation software; and Numbers, a spreadsheet program.
Users who download the trial version of iWork '09 from Apple's Web site will still see a serial number box; clicking on the "Buy" button will eventually net you a serial number, sent to you by e-mail, which can be used to fill in that box.
This is the first time Apple's retail, boxed version of iWork doesn't require users to input a serial number in order to function.