SkypeCap has announced the release of SkypeCap 1.0, a new utility for Mac OS X that records Skype audio sessions. It costs $39.95.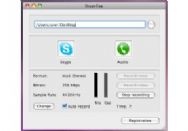 SkypeCap records audio conversations you have using the Skype Voice over IP (VoIP) service to MP4 audio file. You can save sessions for later use and playback: Conference calls, interviews, training sessions, announcements and more. SkypeCap include the ability to detect new Skype sessions and record them automatically.
System requirements call for Mac OS X 10.4 or later and 10MB hard disk space.