One of the biggest announcements made by Apple during the recent Macworld Expo was the news that, soon, all music sold by the iTunes Store will be free of digital rights management (DRM) restrictions. Currently, some 80 percent of music sold on the iTunes Store is without DRM, with the remainder to follow by the end of March.
While this frees up iTunes Store purchases for playback on other devices, or with other software, there may still be a hurdle if you don't use a compatible device, or if you want to use these files with Windows software. For the music files sold by Apple are in AAC ( Advanced Audio Coding) format. (Contrary to what many believe, this is not a "proprietary" format owned by Apple, but rather part of the MP4 specification.) But not many devices support AAC. Aside from Apple's offerings, Microsoft's Zune, the SanDisk Sansa, several Sony devices (the PlayStation Portable, Walkman and some phones), the Sonos Digital Music Player, the Squeezebox, and some other devices can play back AAC files. A handful of player programs support AAC, but not some of the most commonly used Windows programs such as Windows Media Player. But nearly every digital music player can play back the more ubiquitous MP3 format, as can most home DVD players and car stereos (via MP3 CDs).
If you want to take advantage of the vast catalogue of music available on iTunes (while Amazon.com has a broad selection, iTunes still has many exclusive albums, or albums with bonus tracks, and, in some areas, has a wider range of music), why not buy AAC files and convert them to MP3 if you want to use them on non-Apple devices? Some people think it's heresy to convert music from one format to another, but, in reality, if you convert a 256 kbps AAC file to a 256 kbps MP3 file, you won't hear any difference or degradation.
Converting these files with iTunes is pretty simple. Choose iTunes: Preferences, click the General tab, then click on the Import Settings button. If you have never changed the default settings, this will be set to AAC Encoder at 128 kbps (what Apple calls High Quality). Choose MP3 Encoder from the first menu, then, in the second menu, choose Custom, then 256 kbps. (Use this bit-rate, which is the equivalent of the iTunes Plus AAC files' bit-rate so you lose as little quality as possible.) Then click OK twice to save your settings.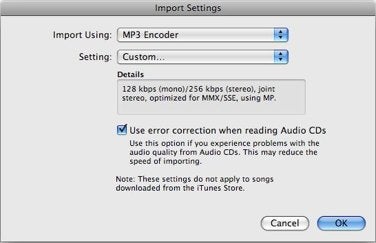 Next, create a playlist with the tracks you want to convert. Select them all, then choose Advanced: Create MP3 Version. iTunes will take a few minutes (depending on how many tracks you're converting), and will make you new MP3 versions of your files. In order to find which they are—they'll be filed together in your library with the originals—check your Recently Played playlist, or create a smart playlist where Kind Contains MPEG and Date Added Is today's date, in the form 1/20/09. Next, Control-click on one of the tracks and choose Show in Finder. If iTunes organizes your music, you'll find all the tracks for a given album in the same folder; just spot the MP3 versions and copy them to another folder or device.
(If you often change from one format for ripping your music from CD to another when converting files, you might want to use Doug Adams' Quick Convert script. It lets you convert tracks using your choice of encoders, then restores your encoding preferences after conversion.)
So the above technique works for iTunes Plus files, which are DRM-free, and which allow you to convert them to other formats. But what if you have older iTunes files with DRM? You can't use the same technique; iTunes will tell you that can't convert protected files to other formats. So the trick here—which is a bit time consuming—is to burn your music to CD, then rip it from the CD in MP3 format. Don't bother ripping at a bit-rate higher than 160 kpbs (iTunes files with DRM are 128 kbps, but it is commonly agreed that AAC files are better at lower bit-rates; using 160 kbps for MP3 should retain the same level of quality). You'll then be able to have DRM-free files to use on other devices, while you wait for the true death of DRM.