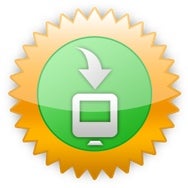 Technology, at its best, helps save us from ourselves. Chances are, if you're anything like the rest of us, auto-save has saved your bacon (and your files) on more than a few occasions. The problem, of course, then becomes all those applications that don't have support for this handy feature—Apple's own Pages comes to mind, as one of my colleagues recently lost a lengthy article to its nefarious clutches.
EverSave is a standalone application that attempts to solve this problem by bringing automatic saving capabilties to all of your applications. Once installed, it sits innocuously in your menu bar, watching and waiting for you to have some files desperately in need of saving. When the time is right, it swoops into action, committing all your files to disk like a Coast Guard rescue helicopter plucking the shipwrecked from icy cold waters. For example.
EverSave is pretty configurable: you can set it up to only auto-save for applications that you choose, have it save based on a time interval or upon application switching, and choose whether it saves all documents or just the frontmost one. There's even the ability to set a system-wide shortcut to turn EverSave on or off.
While it's available as a free download, EverSave's developers, Tool Force Software, kindly ask for a donation if you enjoy using their software. And that's hardly too much to ask for an application that could save you untold grief and a future of self-recrimination.
[via Lifehacker]