Amid an ongoing recession that has dimmed prospects for consumer companies, Apple Wednesday said that it saw record revenue and profit during its fiscal first quarter on the strength of solid laptop, iPod, and iPhone sales.
For the first time in its history, Apple tallied more than $10 billionin revenue, reporting sales of $10.17 billion for the three months ended December 31. That's up 6 percent from the revenue of $9.6 billion Apple recorded during the year-ago quarter.
The company reported a $1.61 billion profit, up 2 percent from last year. Apple earned $1.78 per diluted share, up from $1.76 a year ago and ahead of analyst expectations. Analysts polled by Thomson First Call expected revenues of $9.75 billion and $1.39 per diluted share.
Apple's first-quarter performance was also a far cry from the challenging picture the company painted in October, when chief financial officer Peter Oppenheimer told analysts that the company was expecting earnings of $1.06 to $1.35 a share on revenue ranging from $9 billion to $10 billion.
"We entered the holiday season with our best product lineup ever and our customers responded," Oppenheimer said on Wednesday.
Another Mac record
Strong laptop sales fueled a record quarter for Mac sales, the sixth time Apple has set a quarterly sales record in the the last seven quarters.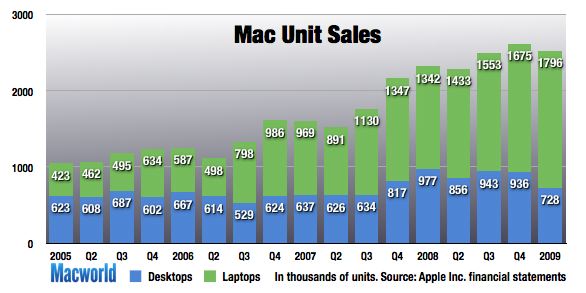 The company said it sold more than 2.5 million Macs, a 9-percent jump in unit growth from last year's first quarter. Much of that growth came from the laptop segment, where sales grew to 1.79 million units from 1.342 million portables in the year-ago quarter.
Apple introduced an overhauled MacBook line in October—which executives said was a major factor in the record Mac sales. "Customer response to the new MacBooks and MacBook Pros was strong," Oppenheimer told analysts.
However, Apple also reported a steep decline in desktop sales, which fell to 728,00 units from 977,000 in the year-ago quarter. Oppenheimer said the year-ago figure was inflated by the August 2007 launch of the Penryn-based iMac and that gap reflects a shift toward notebooks in the overall market. However, it's been some time since Apple updated its desktop offerings—the iMac last saw an update in the spring of 2008 while the Mac Pro and Mac mini lines have been unchanged since January 2008 and August 2007, respectively.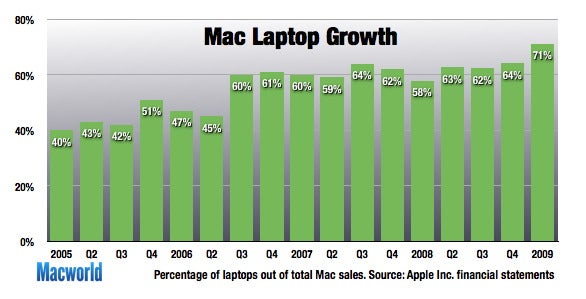 Laptops accounted for 71 percent of the Macs sold by Apple during the fiscal first quarter. The laptop line's share of Apple's sales had been around 60 to 62 percent in recent quarters.
In a conference call with Wall Street analysts to break down the results, Oppenheimer and chief operating officer Tim Cook fielded questions about netbooks—compact, lightweight portable computers with a low price tag. Apple has remained out of the netbook market, and, based on comments made by Cook Wednesday, continues to be unimpressed by what other companies are offering.
"From our point of view, those products are based on hardware that's much less powerful than what we think that customers want, software quality that is not good, cramped keyboards, small displays," Cook said. "So we don't think people are going to be pleased with those products, but we'll see."
Cook added that Apple continues to watch the netbook market and has "some ideas" about it.
iPods find room to grow
The Macs weren't the only product line to see record sales for the quarter. Apple also sold a record number of iPods, after introducing changes to the line of portable music players in September.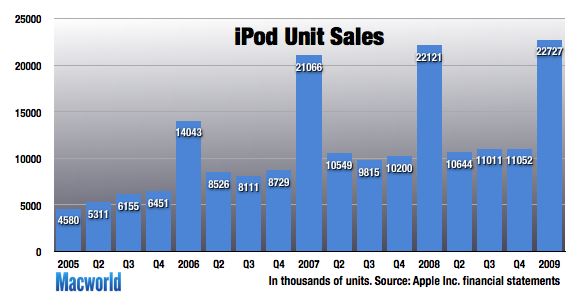 For the quarter, Apple sold 22.7 million iPods, up three percent from last year's record total. Encompassing the holiday shopping season, Apple's fiscal first quarter tends to see a large number of iPod sold. However, the trend of slowing sales growth continued—in last year's first quarter, Apple reported a 5 percent increase in unit sales.
Oppenheimer said that Apple enjoyed a market share topping 70 percent for MP3 players in December, according to figures from NPD Group. He also noted gains in international markets where the iPod market share exceeds 70 percent in the United Kingdom and Australia, 60 percent in Japan, and 50 percent in Canada. The iPod saw year-over-year gains in France, Germany, Italy, and Spain, as well.
Though Apple didn't provide sales figures for its Apple TV set-top box, Cook said sales were up three times what they were during the year-ago quarter, citing the addition of movie rentals to the iTunes Store. The company still describes the Apple TV, which lets you watch digital content on your television set, as a hobby, but Cook noted, "We think there's something there."
Phone figures and retail facts
In last quarter's conference call, Apple noted that it had met its goal of selling 10 million iPhones for the 2008 calendar year. On Wednesday, the company provided a final tally of the iPhones sold in 2008—13.7 million. For the quarter, Apple sold 4.4 million phones, with the iPhone now available in more than 70 countries.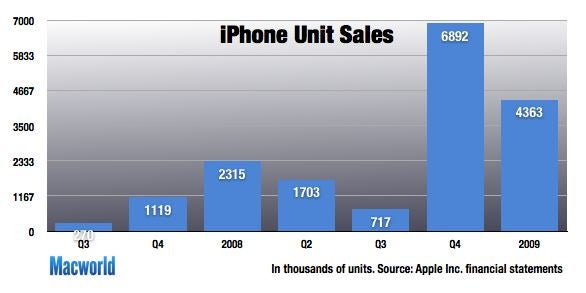 Apple recorded recognized revenue of $1.25 billion, compared to $241 million in the year-ago quarter.
On the retail front, Apple ended the quarter with 251 stores in 10 countries. Total revenue from the stores rose 2 percent from the 2008 first quarter to $1.74 billion. However, average per store revenue fell to $7 million from $8.5 million last year—a fact Oppenheimer attributed to the "difficult retail environment in the U.S."
The company plans to open 25 more stores during the 2009 fiscal year, with half of those openings slated for outside the U.S.
Oppenheimer said the results generated more than $3.6 billion in cash during the quarter, giving Apple $28.1 billion in cash overall. The chief financial officer described Apple's investment priority as "preservation of capital."
The quarter ahead
An uncertain economic climate is forcing Apple to give what Oppenheimer called "broad" estimates for the fiscal second quarter that ends in March. The company says it expects earnings of 90 cents to $1 per share on sales of $7.6 billion to $8 billion.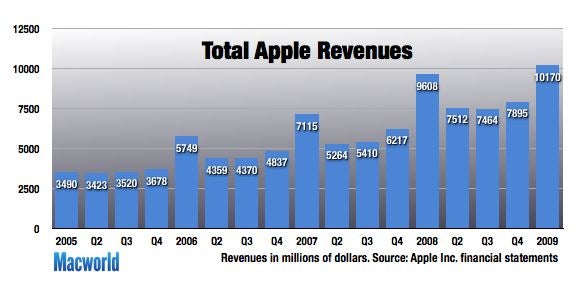 That's below analyst forecasts of $1.13 a share and $8.20 billion in revenue for the current quarter. But Apple's sales estimates are ahead of the $7.51 billion in revenue the company recorded for the fiscal second quarter of 2008.
Apple's stock closed up $4.63, or 5.92 percent, at $82.83. In after-hours trading the stock is trading up $9.31, or 11.24 percent, at $92.14.
Update: Added more detailed information about the quarterly numbers. 1:55 p.m. PT Update: Added charts. 2:00 p.m. PT Update: Added more details. 2:14 p.m. PT Update: Added information from Apple's conference call. 3:42 p.m PT