At a Glance
Expert's Rating
Pros
Greatly improved graphics power
Full-size keyboard
Weighs three pounds
Bright display
Cons
Single USB port
No video adapters in box
Slower than much more affordable Apple laptops
Unswappable battery
Our Verdict
Apple's follow-up to the early 2008 debut of the ultraportable features faster RAM, more storage (a 120GB Serial ATA drive compared to the 80GB Parallel ATA drive in the original), and improved graphics. Instead of an integrated Intel GMA X3100, the Air now features an Nvidia GeForce 9400 graphics processor (though it still shares memory with the system RAM).
Though Apple announced a second generation of the MacBook Air in October of last year, a shipping delay, some surprising benchmark scores, and a little event called Macworld Expo kept us from publishing our review of the latest 1.6GHz MacBook Air until now (we reviewed the 1.83GHz MacBook Air [ ] back in November 2008). Under the hood, changes have helped the new 1.6GHz MacBook Air gain some major ground in terms of performance.
Externally, the new 1.6GHz MacBook Air is almost identical to the first generation 1.6GHz MacBook Air ( ). The new 1.6GHz MacBook Air has the same glossy 13.3-inch screen as the previous model, with 1,280-by-800 pixel resolution and an LED backlight. It still weighs three pounds and requires an optional USB Ethernet cable to connect to a wired network. There is no built-in optical drive, but an external, bus-powered SuperDrive is available for $99 from Apple.
The only visible change to the new 1.6GHz MacBook Air is the Mini DisplayPort connector that replaces the micro DVI connector on the original MacBook Air. Based on the DisplayPort standard, Mini DisplayPort was developed by Apple, which is the only company with products using Mini DisplayPort. (Apple's LED Cinema Display [ ] has a Mini DisplayPort.) Though the new MacBook Air doesn't come with any display adapters in the box, Apple does sell cables that connect the Mini DisplayPort to DVI ($29), VGA ($29), and even Dual-Link DVI ($99) connectors.
Under the hood, the new 1.6GHz MacBook Air received numerous updates. It still has 2GB of RAM, but the laptop now uses faster 1,066MHz DDR3 memory instead of the 667MHz DDR2 memory in the previous 1.6GHz MacBook Air. The new 120GB Serial ATA hard drive is a boost from the 80GB Parallel ATA hard drive in the original. The latest 1.6GHz MacBook Air also has a bigger L2 cache (6MB instead of 4MB), a faster frontside bus (1,066MHz as opposed to 800MHz), and a new Nvidia GeForce 9400M integrated graphics subsystem, which is a significant upgrade over the integrated Intel GMA X3100 graphics in the first generation 1.6GHz MacBook Air.
Speedmark 5 benchmark tests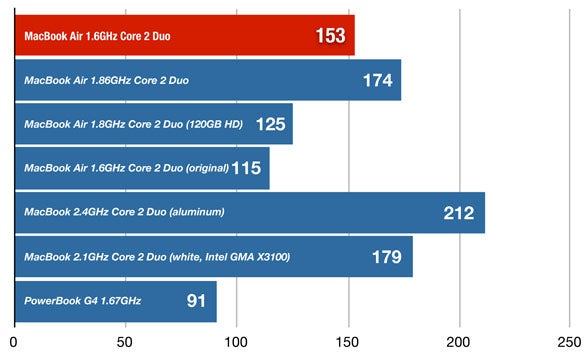 Using Speedmark 5 to test the overall system performance, we found the new 1.6GHz MacBook Air to be 33 percent faster than the original 1.6GHz MacBook Air. The largest performance gains were found in our graphics and hard drive tests, with the new Air able to display more than six times as many frames per second than the original 1.6GHz MacBook Air in our Quake 4 game tests. The new Air was more than three minutes faster than its predecessor in our 2GB Zip Archive test.
Surprisingly, the new 1.6GHz MacBook Air even bested a first generation configure-to-order MacBook Air with a 1.8GHz Core 2 Duo processor and a 120GB Parallel ATA hard drive by 22 percent in Speedmark 5. Again, the new Nvidia graphic helped out immensely, with big gains in many tests, including Photoshop, Cinema 4D, and Compressor.
We ended up in the Lab running extra tests due to some surprising results. Strikingly, the new 1.6GHz MacBook Air was faster than its higher-end sibling, the 1.86GHz MacBook Air, in some of our tests. Though the overall Speedmark score still has the 1.86GHz model in the lead by 14 percent, tests like converting AAC files to MP3s in iTunes and MPEG-2 encodes using Compressor were actually faster on the new 1.6GHz model.
One possible reason for the 1.6GHz MacBook Air boost over the 1.86GHz MacBook Air is the hard drive. The 1.6GHz model uses a 4,200 rpm Serial ATA drive, while the 1.86GHz model ships with a solid-state drive (SSD). SSDs are faster than standard hard drives at reading files, but not as fast as writing, making SSDs faster at starting up and launching applications, but possibly slower at iTunes encoding.
We also suspect that the 1.6GHz MacBook Air might be throttling down the processor speed to avoid overheating. We used Magnus Lundholm's CoolBook ($10) software utility to monitor and report the actual speed of a system's processor while the processor was operating. I didn't use CoolBook to alter the system's processor speeds and voltages; I used it to simply monitor the processor speed as the system executed specific tasks. I also didn't have any heat-related issues with any of the MacBook Airs while testing.
Gauging the processor speed with CoolBook provide interesting insight. In our Cinema 4D test, for example, the render times on both MacBook Airs were similar. According to CoolBook, both MacBook Airs—including the 1.86GHz model—were running at 1.6GHz. Looking at the processor behavior when running Compressor, CoolBook reported that the 1.86GHz processor often alternated between three speeds (1.86GHz, 1.6GHz, and 768MHz) and eventually finished the task at a rate about eight percent slower than the 1.6GHz Air.
In hard drive tests, like zip, unzip, and duplicating files and folders, the SSD-equipped 1.86GHz Air was anywhere between 12 and 40 percent faster than the standard SATA-equipped1.6GHz MacBook Air with the standard 4,200 RPM SATA hard drive. We did not have a 1.6GHz Air with the optional SSD drive available for testing.
In terms of battery life, Apple claims the Air can run up to 4.5 hours on a single charge. Our worse case scenario tests showed the Air to have closer to 3 hours of battery life, about the same as the last generation.
Benchmarks: 1.6GHz MacBook Air
| | Speedmark 5 | Adobe Photoshop CS3 | Cinema 4D XL 10.5 | Compressor 3.0.4 | iMovie HD | iTunes 7.7 | Quake 4 | Finder | Finder |
| --- | --- | --- | --- | --- | --- | --- | --- | --- | --- |
| | OVERALL SCORE | SUITE | RENDER | MPEG ENCODE | AGED EFFECT | MP3 ENCODE | FRAME RATE | ZIP ARCHIVE | UNZIP ARCHIVE |
| MacBook Air 1.6GHz Core 2 Duo | 153 | 1:27 | 1:23 | 2:46 | 1:04 | 1:32 | 26 | 6:41 | 1:54 |
| MacBook Air 1.86GHz Core 2 Duo | 174 | 1:18 | 1:25 | 2:59 | 1:13 | 1:36 | 24.8 | 5:53 | 1:19 |
| MacBook Air 1.8GHz Core 2 Duo (original BTO with 120GB PATA HD) | 125 | 1:52 | 1:53 | 3:25 | 1:19 | 1:39 | 3.9 | 8:36 | 1:32 |
| MacBook Air 1.6GHz Core 2 Duo (original) | 115 | 1:53 | 1:42 | 3:35 | 1:33 | 1:52 | 4.1 | 9:53 | 2:30 |
| MacBook 2.4GHz Core 2 Duo (aluminum) | 212 | 1:05 | 0:54 | 1:52 | 0:49 | 1:03 | 39.4 | 4:59 | 1:32 |
| MacBook 2.1GHz Core 2 Duo (white, Intel GMA X3100) | 179 | 1:17 | 1:01 | 2:07 | 0:55 | 1:10 | 7.6 | 5:25 | 1:41 |
| PowerBook 1.67GHz | 91 | 3:02 | 3:57 | 7:47 | 1:59 | 2:26 | 19.9 | 7:14 | 2:21 |
| | >Better | | | | | | >Better | | |
BEST RESULTS IN BOLD. REFERENCE SYSTEMS IN ITALICS.
Macworld's buying advice
Though not for everyone, Apple's MacBook Air can still boast about its status as the world's thinnest notebook computer, only now, with a 33 percent performance gain, the tradeoff between size and speed is not as great as with the first generation MacBook Air.
[James Galbraith is Macworld's lab director.]