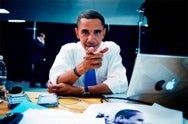 Just after President Barack Obama took to the world stage and spoke before millions of people on the steps of the Capitol building, his staff began the Herculean task of trying to get the nuts and bolts of the White House in proper working order. Of course, one of the first orders of business is getting the computer systems up and running.
It's well-known that Obama himself is a Mac fan, and not surprisingly, his campaign staff was largely powered by a fleet of Macs as well, but according to The Washington Post , the Obama team waltzed into the White House, only to find "computers outfitted with six-year-old versions of Microsoft software." Disappointing? You bet. Furthermore, "Laptops were scarce, assigned to only a few people in the West Wing. The team was left struggling to put closed captions on online videos."
Here's to hoping that one of the elements of Obama's mantra of change will be getting rid of those ancient PCs and replacing them with some shiny new Intel Macs.
Better yet, 1 Infinite Loop should outfit the new president with his very own MacBook Air One, pronto.