Seagate has confirmed a potential firmware problem with some of its Barracuda 7200.11 hard drives, along with related Serial ATA (SATA) hard drives based on the same platform. The company is offering a firmware update, but it's only available for Windows users at the moment.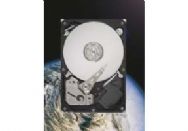 "In some unique circumstances, the data on the hard drives may become inaccessible to the user when the host system is powered on," said Seagate tech support in a statement posted to the company's online Knowledge Base.
The affected drives include some Barracuda 7200.11, DiamondMax 22 and Barracuda ES.2 SATA hard disk drive mechanisms. Seagate's posted information indicates the serial number ranges affected by this problem; the company says that potentially affected drives were manufactured through December 2008.
The Barracuda 7200.11 is a 3.5-inch hard disk drive mechanism that operates at 7200 RPM; it isn't normally found as a factory-installed item in shipping Mac models, but is a commodity drive that can be purchased from a multitude of third-party resellers.
Seagate's instructions for updating the firmware on affected drives include software for Windows only, so if you've installed this drive in an Intel-based Mac running Boot Camp with a Windows partition installed, you may be able to apply the instructions. Otherwise, it looks like you might be cooling your heels for the moment. Seagate had not returned a request for comment as Macworld posted this article.