Onset Computer on Thursday announced the availability of a trial version of HOBOware Pro, the software that accompanies its HOBO data logger devices. The Mac and PC-compatible software is available for download from Onset's Web site.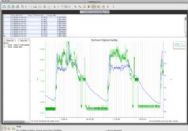 HOBO data loggers are used to study environmental changes and energy data. They can be used to record information on temperature, relative humidity, light intensity and other environmental factors over long periods of time; Onset manufactures a variety of HOBO devices and accessories.
The HOBOware software provides graphing and data analysis functions, logger launch and readout, graph formatting, and other capabilities. It can also export data to Microsoft Excel format and other ASCII-compatible programs, and it works with all Onset data logger and weather station devices.