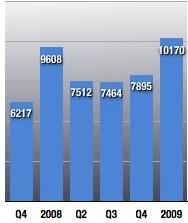 Apple reports an awesome first fiscal quarter, but some are still wondering: is the end nigh?
Of course it is! The end is always nigh with Apple!
Only netbooks can save Apple now!
If the horny one were the kind of mythical creature who smoked (like, say, your dragons, your fire demons, your Beyoncés), he might be inclined, after listening to yesterday's quarterly earnings call, to lean back and light one up.
But he doesn't (message: smoking's not cool, kids!), so instead he'll just laugh at all the people who predicted gloom and doom for Apple just because the company wasn't diving headfirst into the cesspool that is the netbook market and/or said the new MacBooks were losers.
Ha. Ha.
And they're still doing it (tip o' the antlers to Daring Fireball)!
Silly pundits. Will you never learn?
You know what a netbook is? It's a laptop that's really only good for Web browsing and e-mail. Well, guess what? The Macalope's iPhone does that. And it's a phone.
Yes, that's an oversimplification. The iPhone's keyboard isn't meant for much more than short missives and it doesn't come with all those neat stickers from Intel and Microsoft on it (although stickers of equal quality and appeal can be purchased as an add-on for a mere quarter from those machines outside your local video arcade). But just because a bunch of companies filled a need for lightweight Web access by dumbing down their laptops doesn't mean that's the right solution. It's just the most obvious solution.
Read more…
Netbooks are killing…somebody
Meanwhile, who is being hurt by netbooks? Why, turns out it's Microsoft. The former 800-pound gorilla said the rise of netbooks is hurting its bottom line because they run Windows XP instead of Vista and don't come with Office.
As of this writing, Apple is up about 5 points while the rest of the market is down 256. The Macalope's not naive enough to think that Wall Street suddenly comprehends that Apple's not going to pop like a giant bubble the instant Steve Jobs decides to step down and spend more time firing people in his family. Tim Cook spent a fair portion of yesterday's call politely pointing out that, contrary to popular misconception, there are actually people other than Steve Jobs who work at Apple. No, it's true! And, when you think about it, it makes sense. There's no way Jobs could burn all those EPROMs by himself. That'd be silly!
Is the Apple Store half full or half empty? Also, netbooks?
BusinessWeek's Peter Burrows wonders if Apple's maxed out on the number of switchers it's going to get. It's possible, but it should be noted that this speculation is based on Apple going from saying "more than half" of Mac purchasers in Apple Stores were new to the platform to saying it's "almost half." As far as we know, that could just be a change from 51% to 49%.
It's not like there's an infinite number of people who are going to switch. But Apple Store visitors generally only represent the higher end of the home market since stores are strategically placed in high-income areas. For example, Cook concisely explained the company's strategy in selling iPhones through Wal-Mart thusly: their stores are where our stores aren't.
Don't expect Macs to suddenly show up at Wal-Mart in response to a small decrease in switcher traffic, though. Wal-Mart buyers might buy premium low-cost items, but they're probably less likely to buy premium higher-cost items.
Now, if Apple came out with a netbook…
…
Ah! Gotcha. You should have seen the expression on your face.
[Disclaimer: The Macalope holds an insignificant number of Apple shares.]